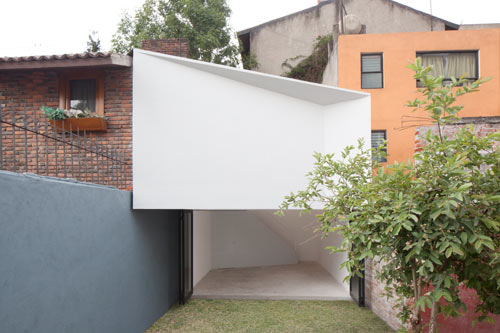 Built in Mexico City, this Mini-Studio, or art workshop, is nestled between three existing structures in the backyard of a house. Designed by FRENTEarquitectura, who carefully considered the direct sunlight that would stream into the space if not oriented correctly. In order to block some of the light without restricting the view, the upper level juts out to cast shadow over the ground floor windows. Overall, the space is full of trapezoidal shapes, giving dimension to the white walls and shiny epoxy-coated floors.
Glazed doors open up the ground floor making the outdoor and indoor spaces merge.
I love the loft space with the row of windows.
Architectural Design: Juan Pablo Maza
Project Team: Daniel Nava & Estefanía Hoth
Photos by Paul Czitrom & Onnis Luque, courtesy of v2com.net.

Design From Around The Web