Located in the Charlevoix region of Quebec, Canada, the Malbaie VIII Residence, La Grange, is a reinterpretation of a traditional barn that sits atop a ridge surrounded by a forest. Designed by MU Architecture as part of the Terrasses Cap-à-l'Aigle development, the home fits right into the rugged landscape with its barn-like shape and exterior that's clad in white cedar planks and dark gray metal.
A break in the form becomes a terrace on the top floor that lets the residents enjoy views of the St. Lawrence River. Below the terrace is another cut to the volume which marks the covered entrance to the home.
On the inside, there are concrete floors and wood clad walls welcoming you into the ground floor. The large windows bring the nature right in making the house immediately feel cozy.
This floor houses four large bedrooms, each with their own bathrooms.
They continue the cedar planks on the ceiling and for the walls of the bathroom. They even made the bed frame out of it.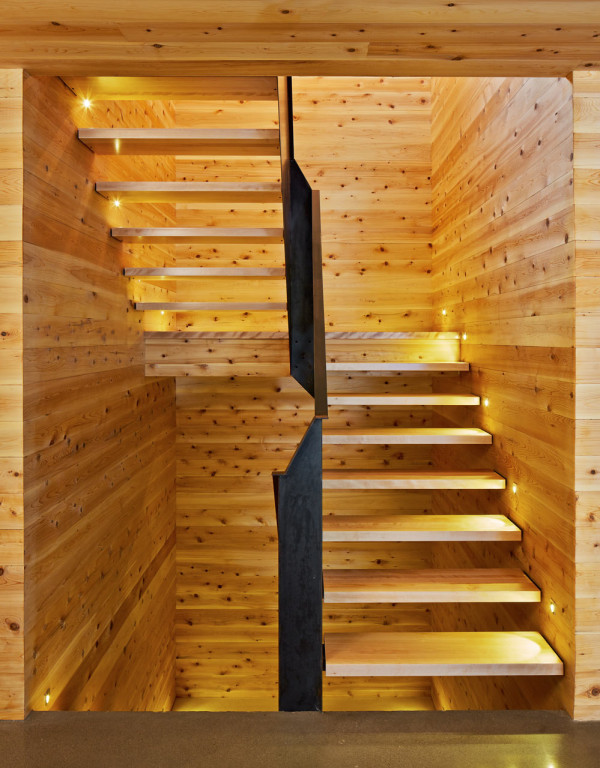 The wooden staircase leads to all of the floors. The railing is made of raw hot rolled steel to contrast all of the wood used.
The upper level is one large open plan with the living room, dining room, kitchen, and lounge. The same radiant concrete flooring is used and its sheen helps bounce light and reflections throughout the space.
The tall cathedral ceilings make the space appear massive but with the wood walls that wrap two sides and continue up and around, it feels cozy and warm.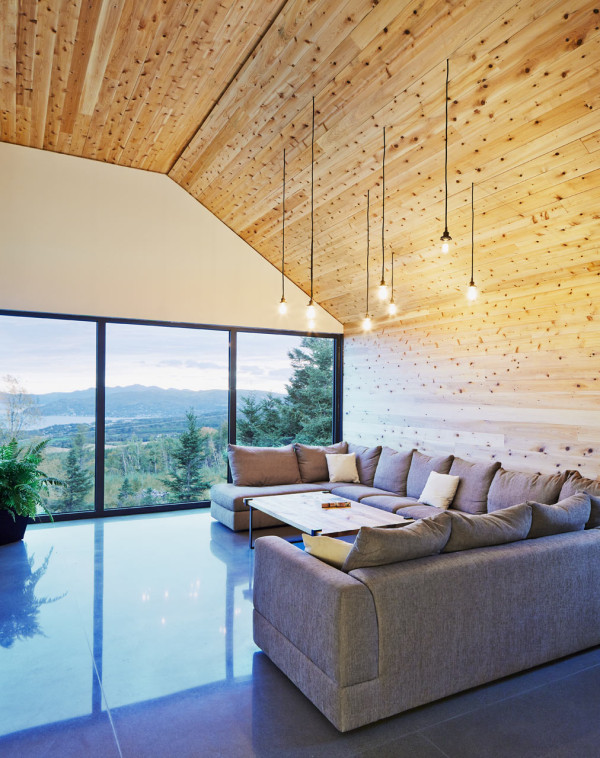 The basement completes the house with a large playroom and a child's dormitory-like sleeping area.
Photos by Ulysse Lemerise Bouchard (YUL Photo), courtesy of v2com.net.