The CMYK Color Swatch Calendar 2015, by Peter von Freyhold, comes with 371 daily strips (already perforated), each with their exact CMYK values. As you tear them off each day, you can bind them (with the included screw) to create your own swatch book. Available from $50.83 USD to $67.83 USD shipped, depending on where it's going, from The Bazaar.
JP King designed another year of geometric, mid-century-ish designs in the perfect combination of fluorescent pink, blue, and yellow. $24 from Paper Pusher.
Graphic art god Matt W. Moore has taken his mad graphic skills and turned them into a colorful calendar for 2015. Get one for $39 right there.
Typodarium will give you a daily dose of typography while letting you keep track of the days with typefaces by 223 designers from 31 countries. Purchase through Slanted for €16,80.
The Circular Calendar for 2015 is a cool design where the yellow circle displays the daily sun hours on latitude 50° north of the equator during the year. The extra rings mark the daily sun hours on latitudes 40° and 30° north of the equator. Get one for €24.
Inkello is back for the 6th year bringing you a pocket-sized, matchbook calendar that's handprinted on antique letterpress with a cover in either tomato red, yellow moss, blue raspberry, or charcoal brown. Available for $8.
Avril Loreti makes a tea towel calendar every year, each one better than the last, with colorful, geometric imagery and hand drawn lettering. Get your own on Etsy for $25.
Designed by Philip Stroomberg, The Cube Calendar turns the calendar into a new form that lets you tear off a card for each day. Every few days, a card with a quote about time pops up. Available for £22.95 from Design Museum Shop.
From Julie Kostreva comes a limited edition letterpress and gold foil calendar print with geometric shapes that's an exclusive with School House Electric. Only 100 are available for $33.
Display time in a linear fashion with MAKE Collaboration's Vertical, a large wall calendar with individual pages for each month. You even get 75 event stickers to add to important dates. $25.99.
For the love of all things Polaroid, there's the Poladarium 2015 tear-off calendar that reveals an instant photo every day of the year. Available here for €29,80.
Using their signature red and blue ink, Crispin Finn released their latest 2015 Year Planner that's an embossed, two color screen print. Available for £14.
Dozi brings a wall calendar with 12 modern designs that will add some fun color to each month of your year. For sale on Etsy for $26.
A Design Milk favorite – the massive Stendig calendar based on Massimo Vignelli's 1966 design. Available from GNR8 for $39.95.
JUST TYPE 2015 celebrates the font each month with looks back at the most distinctive and historic typefaces. Available now on Amazon for $12.43.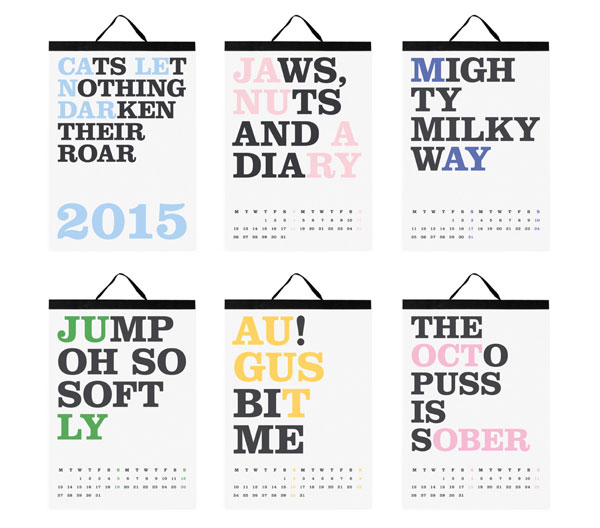 Celebrating 10 years, Cats Let Nothing Darken Their Roar is back with a very special 2015 edition using the most popular phrases from every edition since 2006. Get yours for €39 / $45.
We all know how satisfying it is to pop all those bubble wrap bubbles so getting to do it daily throughout the year with the Bubble Calendar sounds pretty damn fun, doesn't it? Get one for $24.99.
SNUG.TOYBLOCKS, designed by snug.studio, comes in pink, white, or black and features geometric blocks as the month number. Available for $19.10 via Etsy or €14.90 from snug.studio's online shop.
Ryan McGinness designs the Calendar To-Do List Pad every year featuring 365 unique drawings with space below for you to make lists or doodle. Get it for $24.95.
From Studio Hinrichs comes the 365 Typography Calendar, full of classic and revival typefaces, along with new ones, you can enjoy all year long. Available as a Desk Size for $29 or Super Size for $47 on Amazon.
The Wandekalendar 2015 is a dual-sided calendar that hangs either horizontally (yellow) or vertically (black) and comes with 100 Post-it Notes so you can add important dates and reminders. Available for 19.50€ here.
Designed by Snæfríð & Hildigunnur for Wrong for Hay, the Perforated Calendar 2015 lets you remove each day of the year as it happens. Available in Cream or Rose for 149,00 DKK from Hay.
TYPE is a letterpress calendar that sits on your desk in an eco-friendly bamboo stand. Printed on a 1960's letterpress, each month is printed twice, once in black and once in gray, to get the two-tone look. $39 with a stand or $24 for the refill from iSkelter.
We're all about supporting independent artists and with the help of companies like Society6, it's a whole lot easier. The 2015 Society6 Artist Calendar is a limited edition of 1,500 units and each month features an original work of art. Only $20.
Perfect for the minimalist, the 2015 Year Planner from Tom Pigeon lays out the year with plenty of space to write on each day. The two color planner is screen printed on a natural white paper giving it a clean look. Available for £20.00.
In its 6th edition, the Typographic Wall Calendar, designed by Harald Geisler, features 2015 used keyboard keys to represent the year. Each one is manually laid out to write out all of the days and then photographed. Available for 29,00€.