I'll be honest. I strongly dislike cooking. And chopping. And slicing and dicing, frying, broiling and sautéing. But I can tell you from experience, having a kitchen you love makes cooking so much more tolerable. And if you already love cooking and your kitchen, you probably never want to leave.
Every kitchen is made up of the same essentials, but design is what sets it apart. Whether you're looking to build new, remodel, or just update a few minor details, we've put together 10 ways you can modernize your kitchen. We even talked to a few kitchen design experts to offer their opinion on the best ways to upgrade. Put all of them together for the ultimate modern kitchen overhaul.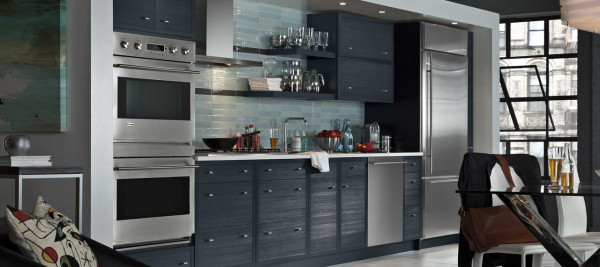 But first, what make a kitchen "modern?" Susan Serra, CKD, believes that "current modern kitchen design increasingly places functional and aesthetic elements on equal footing. The interplay of new and interesting products and materials is more open to personal expression than ever before. Modern means change that is designed into the kitchen. I do not want to see the same kitchen design year after year. I want the decorative layer designed from the outset to be able to change as my mood changes."
Lisa Wilson-Wirth, CKD, President & Design Principal of Wilson-Wirth Design, says "Modern can mean many things to different homeowners. It could mean a European style cabinet, which is frameless, with a design program featuring strong horizontal elements in cabinetry and recessed (integrated) handle profiles, but this also could be a design program featuring more traditional cabinets employed with modern finishes and materials. And while it is a beautiful space to look at and enjoy, a modern kitchen addresses functionality by providing a custom tailored cooking set-up to meet the unique needs of its users designed by work zone. It should also encourage and support their goals for healthy eating and overall wellness."
1. Toss The Triangle for a Functional Floorplan
Before you do anything, consider your floorplan first! If you're remodeling, think about what you can improve upon with the existing layout. Serra explains "today, there's a different, yet important approach to designing the kitchen floorplan that includes analyzing your lifestyle situation and then planning for an adequate and comfortable space."
Figure out what's functional for you—modern doesn't have to mean form over function. The traditional triangle of sink, fridge, cooktop/oven doesn't work for everyone, so figure out how you move around the space and work from there. If you can't change the layout or you have a small budget, don't fret! In my previous kitchen, we didn't have a choice as to where most major things were located, and we had to work with the existing layout. Instead we added functional cabinetry and storage, making improvements where we could.
2. Counter and Cabinet Cohesion
Monochromatic mania seems to have entered the kitchen world with white on white or black on black kitchen cabinet and countertop combinations. A seamless, cohesive look makes for a sleek look.
3. Seamless Appliances
When it comes to picking out appliances for a modern space, most modern kitchens tend to have appliances that lean toward the industrial. The modern essential is a matching set of appliances with clean, rectilinear lines and coordinating handles. GE's Monogram line of appliances is a great example of a series that looks and feels professional but is still attainable by the average consumer. They offer a range (pun intended!) of options that all maintain a sleek, modern look that will have your neighbors envious. The built-in fridge look is a great way to carry on the seamless modern lines and create harmony between cabinet and appliance, but if you want to take it one step further, integrate your appliances directly into your cabinets with panels. An alternative look I particularly like is using a lighter-colored cabinet so that the appliances blend in and everything looks like one solid piece.
4. Warm Hardware
Brass and copper are making a serious comeback right now. I will warn you that we don't know if they're here to stay or it's a trend, but even if it's trendy, then it's best to get trendy with something you can easily change out: knobs and handles.
If you already have stainless steel appliances but really want brass handles, don't worry. Wilson-Wirth says, "mixed metals are trending heavily now, and there are some beautiful options available in brass, bronze, blackened steel. This can be paired with a decorative lighting fixture in same or contrasting finish [see #8 below]. Both items are the 'jewelry' of the kitchen."
5. Deep Dark Faucets
I am a faucet snob. I admit it. When it comes to faucets, I'm super picky. You could say I'm a purist. Which is funny, because my favorite faucet is called The Purist by Kohler. Dark faucets from shiny and matte black to slate gray are all the rage now. I also love this matte black Moen—wouldn't it be great with light ash wood cabinets and floors? This Delta one is pretty hot, too. The budget-friendly IKEA RINGSKÄR is also pretty darn nice. Another interesting up-and-coming finish is Slate, like this one by Pfister (pictured above, top right)—a brushed gray that's darker than regular stainless. You heard it here first that this trend might be creeping into appliances soon…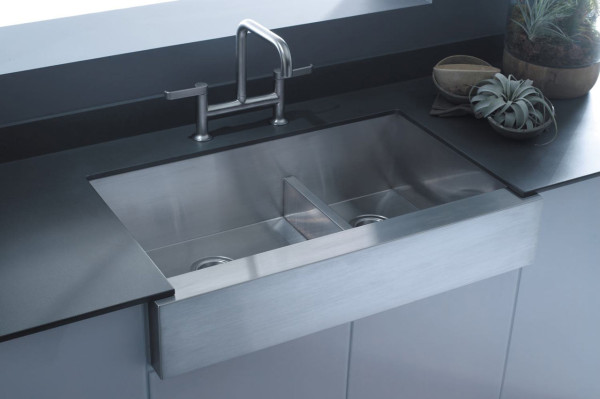 6. Modern Farmhouse Sink
If ever there was a sink that stole my heart, it would be the stainless steel farmhouse sink. It's a modern update on a classic and looks great with any cabinetry. It adds just the right amount of interest where that useless fake drawer would be. If you can find one of these in brass or copper – you're golden (so to speak! Ha!).
7. Tile it Up!
Tile all the way up to the ceiling is a trend that we noticed when doing research for our 12 Creative Kitchen Tile Backsplashes post. The bolder the tile, the better, and we love this moody kitchen from the book New Paris Style, written by Danielle Miller and photographed by Richard Powers.
8. Copper, copper and more copper!
Copper is a huge trend right now and specifically copper pendants and lamps. In the kitchen or an adjacent dining area, you may have an opportunity to take advantage of the copper craze and install some new lighting. It's a quick update that makes a big impact.
9. Art Away!
While I am not going to recommend you put baskets of fake plants on top of your cabinets, I am going to mention how important accessories are to the kitchen. We recently talked about how art can transform a kitchen into a homey and inspired space, and it's true of decorative elements and accessories. When buying art, don't forget about your kitchen! After all, you do spend a lot of time there…
Serra suggests "Bring in small branches from the outdoors and create a series of designs on one or more walls which add dimension in an unexpected way. Or, install a wall mural. Simple forms, thoughtful textures and quiet countertops and walls allow artwork, for me, the soul of the kitchen, to communicate emotion."
Sabrina Soto, HGTV host and designer and Founder of CASA & Company, says you should go bold in the kitchen. "Go bold with a piece because you don't have to deal with as many textures and patterns that you would in a living or bedroom."
10. Warm Underfoot
Rugs in the kitchen are not only functional (cushion you while you cook, protect your floor from food), but can be decorative too! We rounded up kitchens with kilims last year and we think this trend of decorative rugs in the kitchen is here to stay. I like the rug-on-rug layered look, especially when it comes to kilims, so the more the merrier!
Have something to add? What updates have you made to modernize your kitchen?