We love homes that effortlessly blend modern and traditional design with vintage elements (like in this Lisbon apartment) but trying to achieve the same eclectic look in the bathroom can prove to be a challenge. After all, it's a space with a lot of hard edges and necessary features (and making changes in the bathroom is a bit more permanent than just swapping out sofa pillows). A new bath collection by Brizo, Rook™, is all about combining styles—a contemporary masculine aesthetic infused with early 1900s traditionalism. Seth Fritz, Brizo senior industrial designer, explained that even the inspiration behind the collection came from distinct sources. One afternoon, he stumbled upon a 70-year-old bank cart (below) and was captivated by its raw form. Shortly after, the Brizo industrial design team took a trip to several Frank Lloyd Wright homes around the Chicago area and were completely awed by Wright's ability to combine styles. The cart and Wright's homes sparked an idea for a new bath collection. Seth said, "As we explored inspiration themes, a common set of objects continued to come to mind—a chess set. Each piece masterfully blends classic and modern elements."
Inspired by the way Rook unites different styles, we decided to ask some of our favorite interior designers for their tips on achieving an eclectic look in the bathroom. (They even have solutions for small bathrooms!) Our expert panel includes Donna Mondi Interior Design, Richard Herb of Richard W. Herb & Associates and Christian May of Maison21—giving us the lowdown on crafting a beautiful, unique space.
What are some tips for mixing modern and traditional styles (for example, if you have a claw-foot tub, should you only stick to traditional faucet types)?
Donna: I think what makes a design interesting is not being predictable but still feeling very cohesive. I would absolutely pair a minimalist wall-mount faucet with a traditional claw-foot tub. Just mix in more elements of each era, and it will blend seamlessly.
Christian: The secret is in the mix. Just remember: opposites attract! So, with a claw-foot tub, I would want to pair with an opposite style, like a sleek and modern tub filler. For example, in the powder room that I designed for Brizo (pictured below), since the Rook faucet has a somewhat traditional feel, I paired it with its opposite: a minimalist modern vessel sink.
Seth: Eclectic styling is the new norm – embrace it! Don't be afraid to mix modern and traditional fixtures. Focus on finishes, as they can beautifully bind these two styles. For example, pairing a simple, modern tub filler with a claw-foot tub could prove to be a match made in design heaven.
What's the best way to bring vintage elements into the bathroom? 
Seth: There are several ways to add a touch of vintage charm to the bath, like incorporating an antique credenza or vanity cabinet. My personal favorite is combining a mid-century modern walnut credenza with a white vessel sink. Another look I love is a pop of reclaimed wood. From floating shelves to seating, it instills a feeling of warmth and gives a modern bath some vintage flair.
Christian: The easiest way to introduce a vintage element is through vintage or vintage-inspired lighting. Adding sconces and/or a ceiling fixture is an easy and dramatic way to give a space some wow style. A slightly more ambitious way of introducing retro appeal would be to repurpose an original piece as a vanity.
What's the best way to make your bathroom feel eclectic?
Donna: My favorite way is to mix metals. I ignore popular opinion and pair brushed gold cabinet hardware and an antique gold chandelier with polished nickel plumbing fixtures. I also layer in texture so it keeps things interesting. Add a hide rug, petrified wood table or lambs wool stool to add authenticity to the space.
Richard: Try using some unique combinations of materials. For a recent project, we selected a very traditional granite counter and tub deck and paired it with a 3" x 6" taupe glass tile for the back splash. In the shower we used a porcelain tile that mimics wood and accented everything with brass mini rounds. Of course, artwork and accessories always make the final statement.
Christian: Utilize as many different sources as possible—I would never buy everything all from one source. Seek out smaller independent vendors, as they often provide materials that make your bathroom feel special. Try to incorporate something you haven't seen a lot of, or better yet, is one of a kind. Take the road less traveled and you'll be happier as it's always the unexpected and unusual that makes a room come alive. In the powder room I designed for Brizo, the Jamie Beckwith Collection wooden wall tiles (above) are the stand out, which provide an unexpected element. I'd never seen them used in a powder room, so it was game on!
What are the big trends you see for bathroom design for the next year?
Seth: I'm starting to see designers play up the idea of 'escaping'. Homeowners are seeking a retreat from their daily routines to relax, rejuvenate and replenish, even if only for 20 minutes. Creating a home spa can be as simple as combing a traditional claw-foot tub for soaking with a shower that features modern technology to invigorate your senses.
Christian: I think, as with interior design in general, eclecticism will continue to grow as a trend. Consumer tastes are much more sophisticated these days and people are willing to take risks (and spend money) in their desire for something truly unique to their lifestyle.
What metals are we going to see more of in the bathroom?
Seth: We'll continue to see warm metals make their way into all accessories throughout the home, especially in the bath. Gold tones, oxidized coppers and polished nickel, which pair well with a variety of finishes and materials, will likely become the go-to for many homeowners.
Christian: All of them! And mixed up together. There is no reason why your sconces can't be copper and your faucet nickel. And, for an ultramodern touch, I'm still digging matte black fixtures. I've been using them heavily in projects over the last few years and still love the look.
Are there any particular tricks or tips for making the most of a small bathroom?
Donna: I just did a 1920's rehab, and the powder room is TINY! Both the toilet and the small porcelain vanity sink were wall mounted. We added white painted wainscoting and mirrors in the flat panels. You'd be surprised at how spacious it feels!
Richard: There are so many ways to do that. Mirrors correctly positioned always work. Glass tiles have a similar effect. Of course, the shower must be clear frameless glass and very open.
Christian: Well, you need a minimum amount of room for a toilet, and a tub or shower stall, making the footprint needed for those elements fixed, so I recommend getting creative with the sink and/or vanity. There are all sorts of European-influenced sinks that will fit in a corner or slot against the wall with minimum projection. Also, don't overlook the space INSIDE your walls, between the studs. Recessed niches and cabinets are great way to add storage and organization to a small room. Last, mirrors really are your friend. A mirrored wall may be a cliché, but in a small bath, it absolutely works to make the room feel larger.
If you can only do a couple of things to update your bathroom, what is the best way to make the most of a limited budget?
Donna: Paint outdated cabinetry, change the hardware, invest in new countertops and change out the lighting. If your tile is dated, distract as much as possible with rugs and a new shower curtain.
Christian:
1. Paint is always the most cost-effective way to update any room.
2. Change out the hardware (i.e., sconces, faucets and cabinet pulls). It's easier than it sounds, and you'll be surprised at what a difference it makes in making a dated bathroom feel fresh.
3. Update your accessories. New towels or a new trashcan can have a big impact.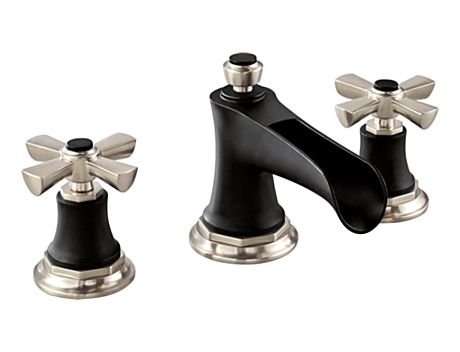 Learn more about the Rook collection by Brizo, and follow along on our Pinterest Board, where we'll be exploring creative ways to mix it up in the bathroom.