To start off, I should warn you that this review might be slightly biased because well, I love Moleskine. I got my first one, a reporter-style pocket notebook, for my 18th birthday and discovered the history behind the notebook (the iconic greats like van Gogh and Hemingway used them). I started to use it for daily homework to-do's, purchased a bigger size for notetaking, and loved having a sophisticated notebook that wasn't spiral bound with covers in funky colors. I now carry at least 2 notebooks in my bag at all times, a daily planner and smaller pocket notebook to jot down random thoughts and to-do's. To say I'm obsessed is an understatement; just look at how many Moleskines I rounded up from my desk alone.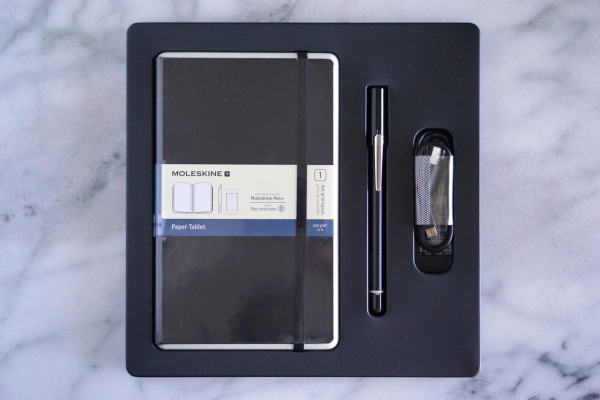 So what is it?
The Moleskine Smart Writing Set is a notebook, pen, and app trio that combine to transform the way you approach writing. What used to be an analogue experience is now a digital one. The Paper Tablet is a notebook with encoded dotted paper that helps your pen recognize where you are within the notebook. The Pen+, a Neo smartpen that was originally conceived on Kickstarter, contains an infrared camera at the tip to track/digitize your writing. Within the pen itself is a micro USB port to charge the pen and a small LED light at the top that flashes various colors to indicate certain modes (i.e., low battery, charging, syncing, etc.). It also comes with a replaceable pen tip ink refill. I'm a pretty picky pen user and I was pleasantly surprised at how smooth this triangulated pen writes and feels. The app is free to download for iPhone users (Moleskine Notes) and for Android users (Neo Notes).
Okay, so it looks kind of cool, but what does it actually do?
After you pair your Pen+ with the app on your phone via bluetooth (a quick and fairly intuitive set up with straightforward instructions provided), you use the Paper Tablet to sketch/write and it will instantly digitize whatever you put into the notebook, as you do it.
To me, the best part about the Smart Writing Set are all of the options available to you after you've written your notes or drawn your sketches. Some of the cool features include:
…replaying your notes. If you ever need help remembering how you got from one idea to another, there is a replay button you can use to see your notes rewritten invisibly like a Marauder's Map (2+ points for those who got that Harry Potter reference).
…auto page detection. As you switch from page to page, the Pen+ will recognize exactly what page you're on without any interruption to your work.
…editing colors and pen width. Completed in green and urgent in bolded red is always visually handy.
You can tag and export each page, as well share with other platforms like Google Drive, Evernote or iCloud. If you don't have the neatest of handwriting, you also have the ability to turn your handwriting into text (I hope my doctor friend in Davis is reading this). It can also capture audio, a helpful feature for students who want to make sure they don't miss a word during a lecture.
I'm glad that the Smart Writing Set still indulges in my need to put pen to paper (literally) but also affords me the conveniences of digital notes. The ability to tag and upload my creative brainstorms to my Google Drive, share quickly-jotted to-do lists with my fiancé, and save my invitation sketches as images have been surprisingly and pleasantly helpful in the crazy circus of wedding planning.
What a nifty product! But the question is, do I really need it?
Because of the price, this product might be more of a want than a need-to-have for some. The Smart Writing Set (notebook, pen, ink refill) costs about $200 and each Paper Tablet is about $30 (you must use the latter in order for the Pen+ to work). So unless you're committed to fully utilizing the set, you might not feel like you got your money's worth.
However, if you tend to nerd out at tech gadgets like I do and are open-minded to give modern tools a try, it's definitely a consideration. The learning curve that comes with this experience is pretty short and easy, and while there are a few more steps to your writing experience, there are also more results you can accomplish with the set. Once you understand and get into the motion of using all of the available functionalities, I do think it'll increase your productivity and transform your writing habits for the better.
To purchase the Smart Writing Set, visit Moleskine.com.