RobitailleCurtis were hired to renovate a Montreal townhouse that came with a 32′ tall atrium and a skylight that spanned the full width of the residence. Instead of downplaying these features, they were embraced to create a bold and unique interior.
From the ground floor up, Douglas fir slats were positioned vertically in place of guardrails. They also keep sight lines open. The wood, combined with polished concrete floors and white lacquered millwork, result in a clean, minimalist space that also feels warm.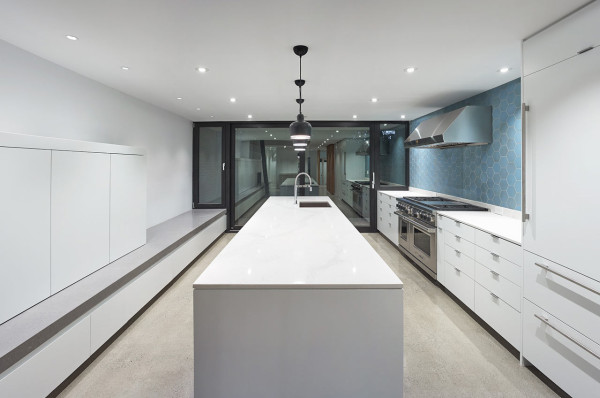 The kitchen was moved from the front of the home to the back for more daylight and open space. The far side of the kitchen benefits from a window wall that flows to the brand new garden.
In the main living area, a massive bookcase was built above the fireplace to provide storage and to entice the eyes up through the atrium.
A central "cube" was designed to organize the ground floor by helping to separate the living room from the atrium and kitchen. It also houses two hidden glass pocket doors to close the living room off. There's also a powder room and a coat closet hidden within.
On the 3rd floor at the top of the atrium, they installed a net the kids can play on while keeping views open to the lower floors. For safety, riggers from Cirque du Soleil installed the trapeze net.
Photos courtesy of RobitailleCurtis.