Moonsetter Is Part Floor Lamp + Part Sculpture
Moonsetter Is Part Floor Lamp + Part Sculpture
1/9 Photos
2/9 Photos
3/9 Photos
4/9 Photos
5/9 Photos
6/9 Photos
7/9 Photos
8/9 Photos
9/9 Photos
Danish architect Anne Boysen, in collaboration with lighting manufacturer Louis Poulsen, has created a floor lamp that invites play and exploration. "I am at my desk one night, when I suddenly see it. A ray of moon-light shone through a gap in the curtains. I put different surfaces in front of it and became fascinated with how something white produced a diffused reflection of light, and a mirror, quite another type of reflection. So I asked myself, how do you simplify this in an accessible idiom, making the complex simple and intuitive," Boysen shared of Moonsetter's starting point.
Boysen's ongoing fascination with light and spatiality, as well as her work and experiments with lighting for showrooms and private homes, guided the way. Knowing how to create moods, the real task was creating a floor lamp that shaped spaces within a space.
"I wanted to create an object with a simple design language, which served as a sculpture when the light was turned off. And as I have a penchant for graphic forms, because they are so elementary that everyone gets them and because we will also use them 50 years from now, everything went like a breeze from then on. And in all its complexity, the lamp could not be simplified any further. Everything in it has a function, a raison d'être," Boysen explained.
Almost like a piece of art, the sculptural Moonsetter floor lamp takes center stage by shaping a space through reflection and light. Basic geometric shapes – circle, square, and cylinder – merge into a unique configuration, each essential to the other two. The solid chrome-plated mirror polished aluminum features a rotating disc, allowing users to customize the reflection of the LED light source, which is submerged in the frame. Switch the floor lamp on or off through use of a rotating footswitch located on the cylinder, which also acts as a dimmer. The disc rotates 360° around its own axis, and is white on one side and reflective on the other. Turned towards the white side the light becomes soft and diffused, while the opposite side reflects the light directly.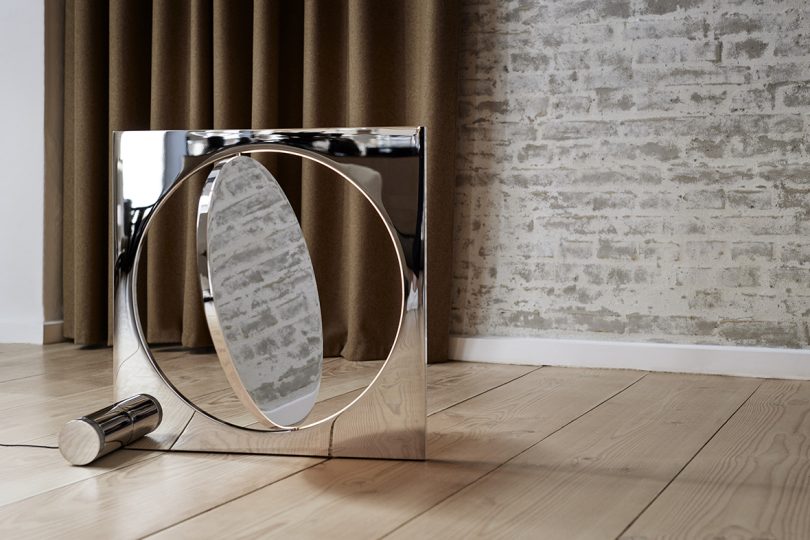 "My designs are all about passing on my own experience to the users. I need to have a gut feeling about every design and to understand it with my body. With Moonsetter, I wanted to activate the whole body, as I believe we learn and experience life best through our senses. You shape the light with the disc and sense the kind of mood you create. And you dim the light with your foot," Boysen shared.
A limited 1st edition of 100 pieces was made available in Denmark in October 2021, another 100 pieces will follow in a 2nd limited edition. Each floor lamp will be signed with its own unique serial number. To learn more about Moonsetter, visit louispoulsen.com.