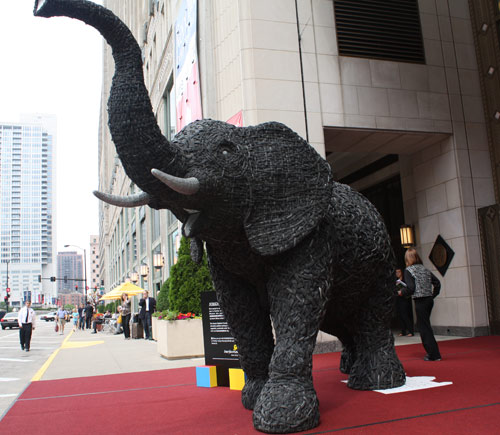 On day two of my first NeoCon, I started by visiting with Nomkhubulwane, or Mother Earth, an elephant sculpture by South African artist Andries Botha, which was sponsored by InterfaceFLOR. I also checked out the InterfaceFLOR showroom, where I fell in love with the Union Avenue carpet tiles, which you can check out on their website (I forgot to snap a photo). I also found out that InterfaceFLOR is the commercial division for FLOR, which apparently isn't that stupid of a question!
I stopped by Sparkeology, a new company who makes fun, functional furniture. My favorite piece is their Flip stool/magazine rack/table designed by Valerie Schmieder and Scott Sikkema. I drew a DM carton on their fun chalkboard wall, and it looks like that Lady Gaga face is about to drink it up!

I peeked inside the Halcon showroom because this beautiful desk really caught my eye.
I was drawn into the Mannington showroom by this clever installation, in which a bird's nest was created from carpet tile scraps. Mannington flooring is big on eco-friendliness, using recycled materials to make a lot of their products.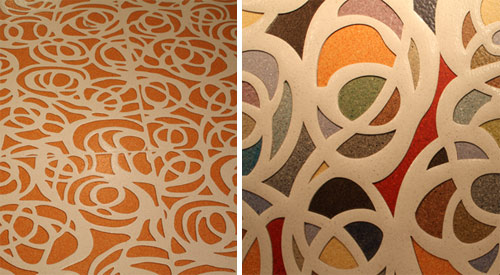 Jofco's showroom was decorated with a lovely robin's egg blue and white theme, inspired by their Aqua series of chairs. I especially liked the Sarah Morris Maharam fabric paired with the blue and white. Sarah Morris is one of my favorite artists.
At Coalesse, I saw lots of great pieces, including the new SW-1 by Scott Wilson with optional side desk. I also loved the Denizen desk setup in the space, which I could picture being recreated in anyone's house (I posted about Denizen back in 2009). In the space, there was also this great newspaper wall treatment and beautiful artwork by Olea Nova-Jenner.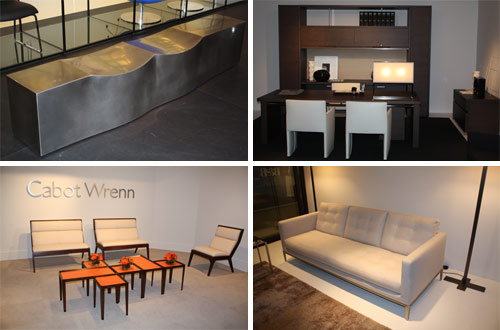 I popped my head into B&B Italia's Project space and Cabot Wrenn. That sofa in the bottom right from B&B had the softest fabric on it!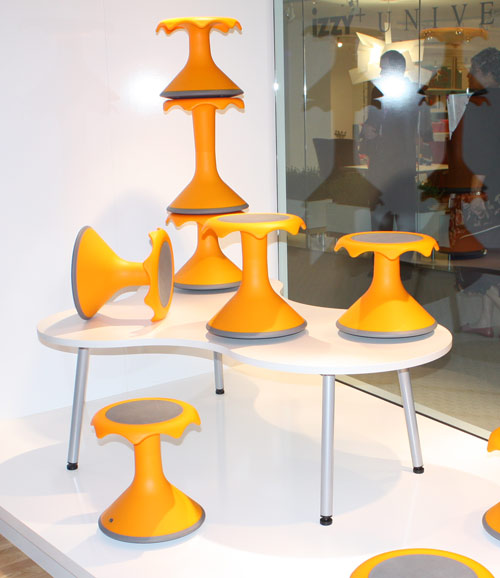 My favorite of the day was the Hokki stool by VS, which is available in three heights. It's really a fun stool to sit on and kind of reminds me of the Ergo Ergo stools.