Brazilian designer Brunno Jahara has just completed a new collection of furniture called Neorustica, all made from scrap wood. The collection of 10 tables, containers and benches pays homage to the country's rural background and its people who moved from the country to the big city in search of a better life (i.e., improvised homes made of scrap). Each piece is named after a shanty town or favela in Rio de Janeiro (the designer's hometown).
Jahara teamed up with a local furniture factory who also specializes in working with wood leftover from construction sites, who is now launching an international brand called NDT Brazil. This new brand is committed to sustainable design.
More from the press release:
Each design crafted out of rough wood, the slates are carefully painted in bright colors making every piece unique and full of character due to the natural texture of aged wood. The result is bridging the distance between object and user, by inviting one to touch and feel the texture of the pieces.

The pieces have names such as Vidigal, Rocinha, Dona Marta, Tuiuti, Caricó, Vila Canoa, Uribu and Pavão. They are built with a feel of improvisation, with low tables and dining tables in two sizes, a vertical and a horizontal cabinet, a compact desk with a long drawer, and a side table in two heights.

The varnish chosen is non toxic and water based paints were used. They will be sold in scratched white, scratched black and multi-colored. The inside material of each container is made of a special laminate made out of recycled PET bottles. This laminate is both durable and easy to clean.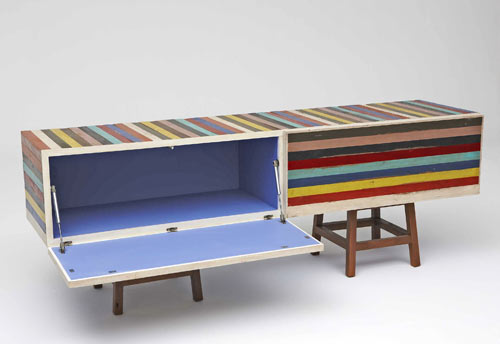 NDT will have their international launch this week at Design Miami at the Ornare Showroom in a joint venture with ViaLight that will show a new table lamp in anodized aluminum also from Brunno Jahara.