Paris-based design studio Moustache has a second collection of furnishings that will be presented this week in Milan. The Petite Gigue chair pictured above doesn't look as strong as a four-legged chair, but it is actually very stable and its stability is reinforced by the two legs of its user.
From the press release:
Rather than artificially developing the principle of novelty at any price, the products produced by Moustache will attempt to take advantage of passing time and to give them a little of the heritage value that furniture and objects held in the past. Far however from looking nostalgically at the contemporary production of the objects, the Moustache collection will try to anticipate and project the solutions for our scenarios for future life.
Micro
These oak and colored foam pegs are directly fixed to the wall so that you can hang your clothes.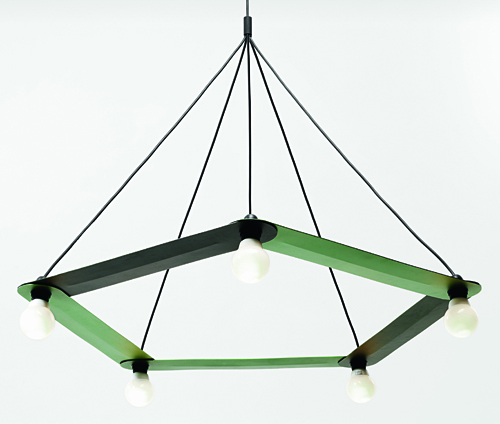 Link5
This is an aluminum piece that allows the user to compose different suspensions with the given components. One can connect them by the simple screwing of a light bulb.
Instant de vie
This round table made of birch wood is also a chest, closed by a detachable top, and the extensions are invitations to put things on it.
Guichet
At first glance, this clock looks like another clock, but it has differences that can only be noticed by paying attention more closely to the details. It appears round, but it's oval, and it seems to be gray but it's blue.
Perle Clock
The three hands have Swarovski crystals and due to the clock movement, the pearls slide along the hands creating delicate sparklings.
Instant Armseat
The armrest of this chair is large enough to put a drink or a glass on it and an added level of comfort is provided by a sheepskin from Pyrénées.