I've been keeping my eye on Olivier Dolle and I'm liking what I'm seeing.
Pictured above, the Carpenter 2.0 sofa has been reinvented with an upholstery design tailored by Floz graphic designer agency, combining multiply fabrics such as wool, leather and Kvadrat® felt.
The Carpenter armchair with its geometric branch designs has been given a new look with Kvadrat® upholstery.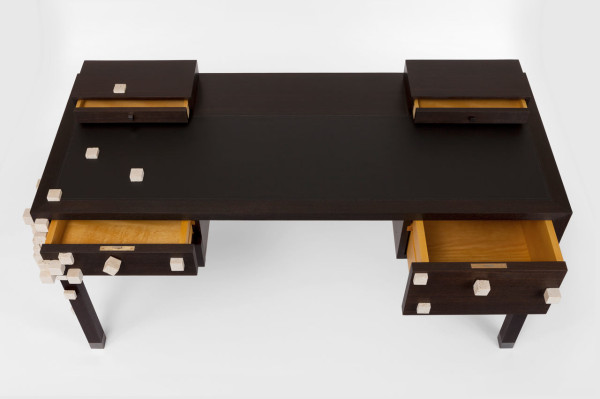 The Squares Desk looks like it has tiny Art Deco fungi growing out of it. The cubes are made of raw marble.
The Grab lamp is an articulated clamp lamp made of solid oak with a small hand-crafted steel tightening wheel mechanism. Its lamp shade is of black stained wood and oak veneer fitted interior with a LED bulb.
The Century Desk is a French art deco 1920's inspired desk that uses high quality materials like as Brazilian amarelo veneer, ancient 2135 B.C "marshland oak" veneer particular to the Rhin region of France, and leather and brass details.
Special custom branch bookshelf design and installation
Custom designed furniture piece