Norm Architects Slides Into Footwear (and Designs the Most Beautiful Place To Put Them On)
Norm Architects Slides Into Footwear (and Designs the Most Beautiful Place To Put Them On)
1/8 Photos
2/8 Photos
3/8 Photos
4/8 Photos
5/8 Photos
6/8 Photos
7/8 Photos
8/8 Photos
Koio's penchant for partnerships has kept us on our toes for years in comparison to other typical sneaker brand collaborations. Whether working with one of world's best pastry chefs to design miniature golden croissant-topped kicks or releasing "shoeramics" with the aid of a Los Angeles-based ceramist, Koio definitely keeps things interesting. Their latest collaboration with Norm Architects is a little less whimsical, but no less surprising, one continuing off the sneaker beaten path.
The Koio x Norm Architects sneaker collaboration lands as the "interconnection between footwear design, cabinet making and architecture," a simple, minimalist silhouette inspired by the classic Oxford shoe with a functional twist and a complementary furniture counterpart.
The design's most interesting feature is the inclusion of a collapsible heel. They're not quite Nike FlyEase, but operate similarly to the common practice of informally stepping onto the back of slip-on sneakers and turning them into heel-less slides. The Koio x Norm Architects sneaker formalizes this convertible function into a handsome sneaker engineered to adapt from casual-formal occasions into the world's nicest house shoes to shuffle about in.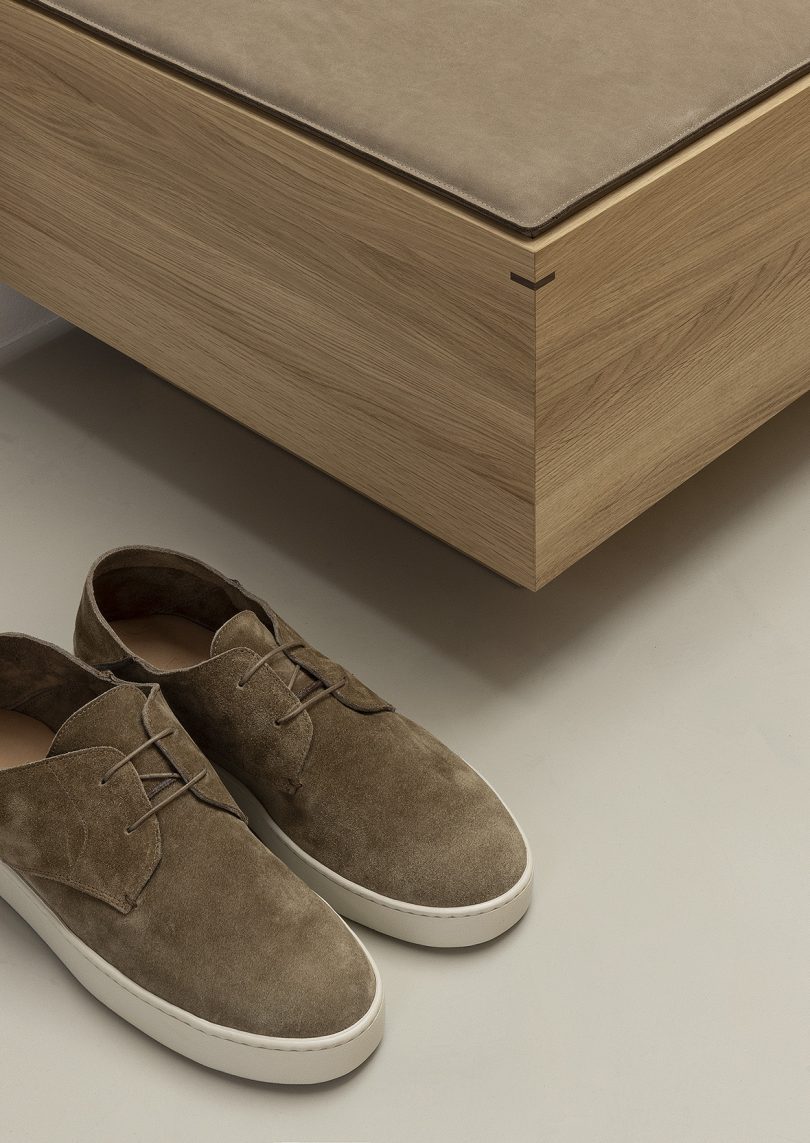 Norm Architects also notes the creative process sparked the decision to design a bench as a complementary piece for the shoes, one inhabiting the same choice of materials and forms of "soft minimalism" defining the firm's design ethos.
Furthering this holistic vision, the architects frame their shoe and bench design within the greater context of an imagined lifestyle living in a minimalist hillside pavilion residence in Cabrils, Spain just north of Barcelona. We may not all be able to live in the Mediterranean hillsides of Spain in a modernist masterpiece, but we can slide into a piece of the fantasy one foot at a time.
Just like we have stripped down the design of the shoe and the bench to its bare minimum, so have we removed clutter and excess elements within the structure of the house in the hills of Barcelona. This way, the home has a light and airy expression, blurring the lines between inside and outdoors to create a natural and comfortable flow through the space.
– Peter Eland, Norm Architects
Available in either 'Black Timber' leather intended to mirror the black steel frames of the windows and the white facades or in 'Cliff' suede hinting of the soft and warm interior elements of the house, both colorways will be made available for $298 via Koio.co. The elegant oak Koio x Norm Architects Bench will require a considerable amount more, each made-to-order for $6,000 a piece.
This post contains affiliate links, so if you make a purchase from an affiliate link, we earn a commission. Thanks for supporting Design Milk!