Ode to the Outdoors: May Roundup + Music Playlist
Ode to the Outdoors: May Roundup + Music Playlist
1/7 Photos
2/7 Photos
3/7 Photos
4/7 Photos
5/7 Photos
6/7 Photos
7/7 Photos
With temperatures warming up and summer in our sights, we're already dreaming of late nights on patios, rooftop cocktails, summer BBQs, and pool parties. If you're lucky enough to have an outdoor space, embrace it and use it as an extension of your home's square footage. If the space is feeling uninspired, spruce it up and make it a spot you want to spend time in, especially after being cooped up in recent times due to the pandemic. Whether you're planning to create a backyard oasis, a cozy terrace, or even a plant-filled window, embrace it and soak up as much sun (with SPF!) as you can for that much-needed vitamin D! Press play on our latest Spotify playlist of Outdoor Party Jams, and look back at our outdoor-related content from the last month!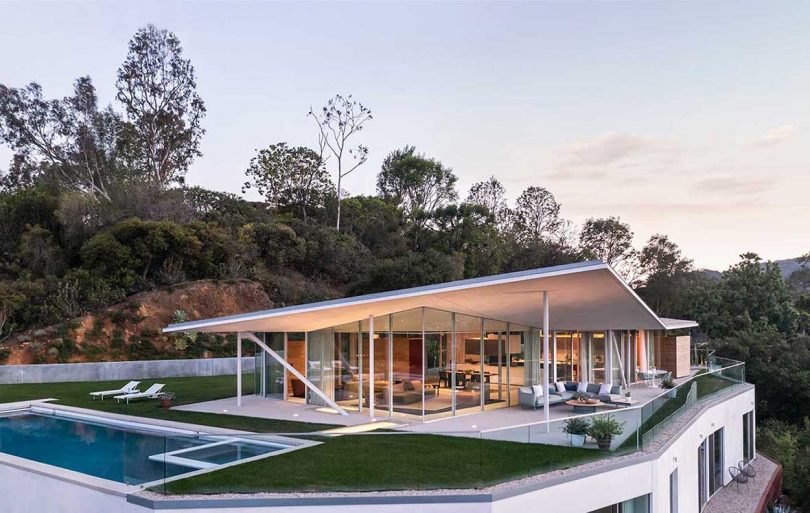 With panoramic views, this California House rests on a steep plot of land in the Hollywood Hills. GLUCK+ designed the house with a lower floor built into the hillside with a green roof that offers plenty of usable outdoor space. The upper level is the jewel of the design with its glass wall pavilion structure and floating, angular roof.

To kick start your outdoor glow up, we handpicked 12 modern outdoor finds that we're loving right now. From a stylish watering can to a hose holder, an inflatable pool to a portable grill, drinking glasses to a bread board, we have you covered so you can create the perfect outdoor oasis for yourself and your family.
AR Design Studio completed The Climber's Cabin, a tiny, A-frame cabin in southern England. The 25-square-meter structure, which resides where a forest and stream meet, provides guest quarters and a space for the owner's children that's separate from the main house. The resulting cabin is a tranquil retreat amongst nature offering an escape from everyday life.
Having any degree of outdoor space is a treat – and while it typically goes unrecognized and underutilized for most of the year, the spring and summer seasons is its time to shine. To prep your space for the impending sunshine and the good times it'll bring, swap out that rusting patio furniture and treat your outdoor space to a modern refresh. Whether you're working with a backyard, balcony, or anything in between, our top five outdoor decorating tips will make your outdoor space the place to be this season.
Located amongst the natural landscape of Minjerribah on North Stradbroke Island in Australia's Queensland, the Baker Boys Beach House is a new vacation home by REFRESH*DESIGN. The retreat's design gives nod to local campsites where all the cooking, living, and sleeping happens outdoors under a large tarp. The private bedroom and bathroom areas are purposely kept small in order to maximize the communal space, which gives vacation vibes with views of the water and surrounding bush.
Rinsing off in the shower after a day spent outdoors on the beach or by the pool is refreshing. Outdoor showers just make sense if you have the space to accommodate one, like Gessi's Outdoor Shower. Showering outside, whether under the sun or starry sky, can feel freeing and rejuvenating, right in your backyard.
Did you miss any of our monthly mood posts? Check them all out here and stay tuned for when we reveal what we have in store for June's design mood…