While GoGo squeeZ is well known for their fun, yummy pouches of applesauce, the company wanted to bring that same kind of playfulness to their headquarters and with the help of Luca Andrisani, of Luca Andrisani Architects, the new offices achieve just that.
The company wants to lead the way as to how others can incorporate the same sort of playfulness into their own offices and their new midtown Manhattan digs are a shining example on how to avoid the work place doldrums.
Free-standing conference pods were installed to allow employees to still enjoy a city view while hunkered down in a meeting. It also allows for unblocked views throughout the space. The glass is covered with a pixelated pattern printed by Signazon to help differentiate the pod from the rest of the office.
An old-fashioned rope swing hangs in the lobby as a reminder to stay active and playful.
A wooden bar with built-in seating was used to let employees enjoy the NYC views while on break.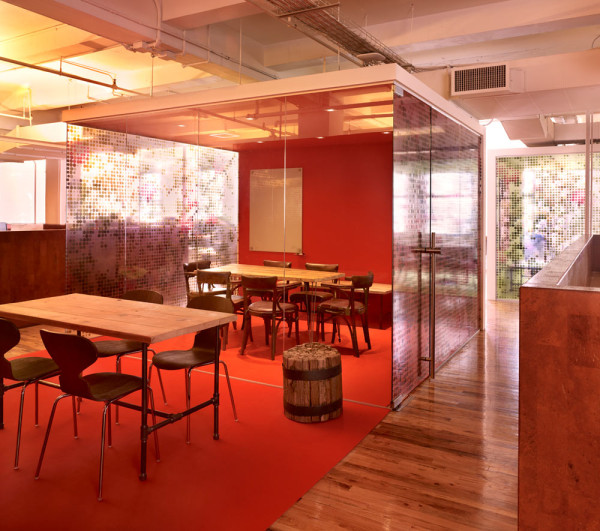 A hammock and other sorts of quirky seating are spotted throughout the headquarters for anyone to enjoy.
The entire office is open to encourage collaboration between the employees.
Photos by Peter Murdock.