While some hotels love to be flashy and extravagant, the newly opened One Suite Hotel located in Srebreno, Croatia takes the opposite approach. You won't find an intricate facade outside or lavish amenities inside. Instead, the beauty and draw of the One Suite Hotel is the green and healthy lifestyle it promotes, one that I think you'll be happy to adopt once you check-out.
That's not to say that the One Suite Hotel is out of date in any way. Designed by 3LHD, the interiors of the hotel feature clean lines, light colors in private quarters and darker tones in public spaces, with Prostoria providing the modern furnishings and studio Flomaster providing all graphics and signage. The wavy facade seems to reflect the landscape around the hotel and is made of plaster with a special granulated glass that gives the facade its lustrous, silvery sheen. The hotel also features an art gallery called Art in One, a collaboration with prominent Dubrovnik artists to highlight the art scene and creative energy of the city.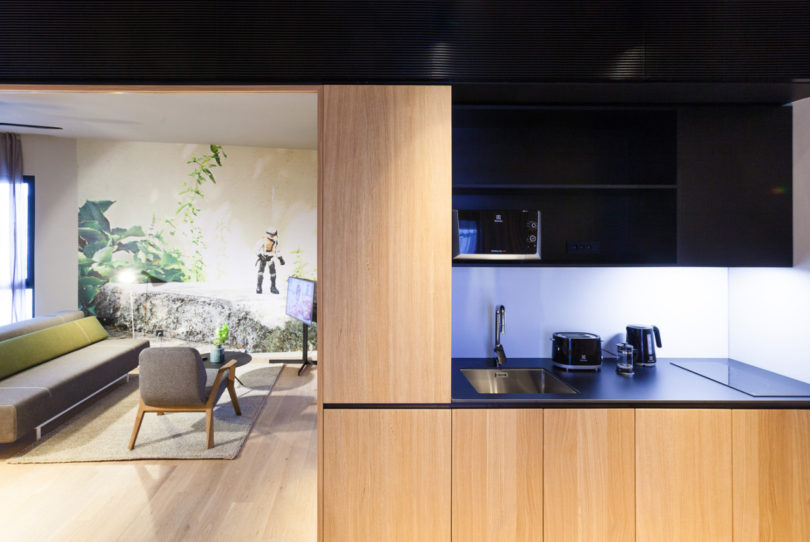 There are 18 accommodation units total in four different kinds of suites: a two bedroom apartment, a one bedroom apartment, a premium room, and a studio apartment. Guests will be able to access a "One Suite Hotel" app that lets them check in/out, access the internet, and unlock doors and guides to the property.
It's not hard to engage in a healthy lifestyle while you're at the One Suite Hotel. The property is surrounded by hiking trails in the Župa dubrovačka town. On one side you have trails, on the other you have the sea. Thankfully the hotel provides different excursions and group tours for you to take advantage of the outdoors (I most definitely vote for the Game of Thrones group tour to walk the gardens of King's Landing). Once you've made your way back to the hotel, you can grab a bite at the Lokal restaurant and bar, a special gastronomic concept that sources its food from local, family-owned farms. The gym, massage pool, infinity pool, and sunbathing deck are also available for your rest and relaxation.
What: The One Suite Hotel
Where: Dr. Franje Tuđmana 1, 20207, Mlini, Croatia
How much? Rooms start at approximately $231 USD per night
Highlights: Rather than distracting hotel guests with flashy decor or lavish amenities, the hotel focuses on providing a tailor made experience to better guests' well-being and lifestyle.
Design draw: The hotel has its own art gallery exhibiting local artists right inside the hotel.
Book it: Visit One Suite Hotel
Photos by Marko Ercegovic.