With Teo Boon Kiat tackling the architecture and Natalie Louey handling the interior design, the ONG&ONG team designed a house to cater to the homeowner's unique set of needs. One Tree Hill blends indoor and outdoor living in Singapore with focus going to the beautiful lush garden.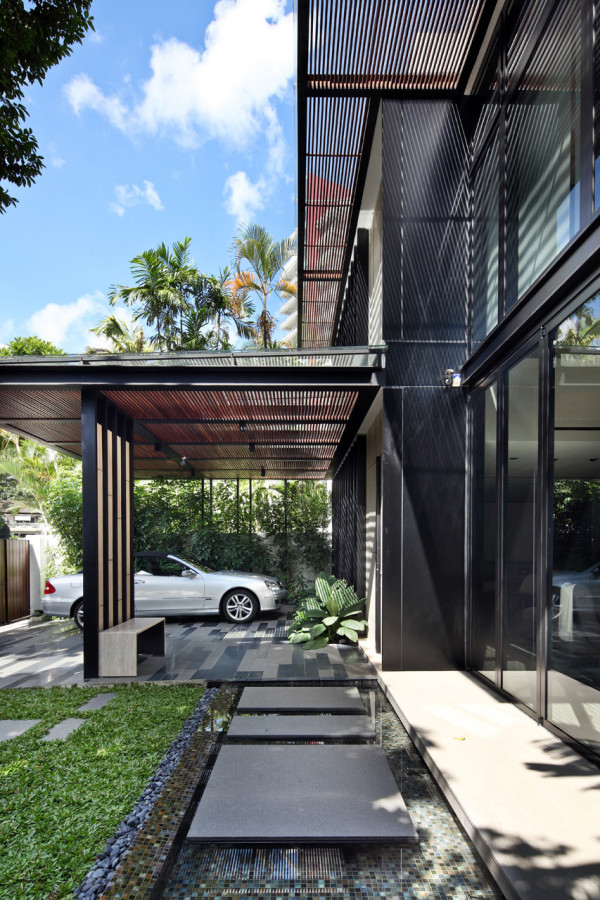 Wood slats provide car coverage and shade to the second floor of the house without being too heavy as a solid material would tend to be. Stepping platforms that make up the walkway appear to float above water.
The large wooden dining table is surrounded by Eames Molded Plastic Dowel-Leg Side and Armchairs in white, which play off the wood and white cabinetry built into the long wall.
A cut-out in the staircase wall provides light for the stairwell while also creating a pretty cool window between the two spaces.
Lacquered white pendants with brass interiors by Tom Dixon hang in the kitchen, complementing the rest of the mostly white decor.
The living room features double-height ceilings and large expanses of glass creating a light and airy space.
The upstairs houses a master bedroom suite and a guest room with its own bathroom. Neutral finishes continue here, as well.
An outdoor lounge sits right off the kitchen providing extra seating. The sliding glass doors open up to expand the square footage.
Photos by See Chee Keong.