OneClock Is Alarmingly Well Designed to Make the Bedroom a Sanctuary of Sleep
OneClock Is Alarmingly Well Designed to Make the Bedroom a Sanctuary of Sleep
1/8 Photos
2/8 Photos
3/8 Photos
4/8 Photos
5/8 Photos
6/8 Photos
7/8 Photos
8/8 Photos
In the age of the smart phone, the alarm clock might seem like the definition of an anachronism – a single purpose device requiring valuable dedicated bedside space. "But why use an alarm clock when you can just set your phone to wake up," you might ask? For numerous reasons – many studied in depth – almost all pointing toward a multitude of underlying issues related to poor sleeping habits common in the age of 24/7 notifications and the temptation of late night scrolling. Say what you may, but the alarm clock's bedside manners are subjectively more civilized.
Alarm clocks are undoubtedly last generation technology, but it would be a mistake to believe these devices haven't evolved with the times. In fact, alarm clocks have seen a bit of a renaissance, with a new generation of models designed to counteract the negative effects of constant screen time and bombardment of notifications modern life often dictates. OneClock stands as a prime example of newer slumber-friendly devices purposely engineered to disconnect us at night from the tether of our online daytime responsibilities and distractions. A growing number of people are beginning to realize keeping our phones out of the bedroom is one of the best habits we can incorporate to invite deeper, more restful sleep. And also ironically, that an alarm clock doesn't have to be…well…alarming when it wakes you up.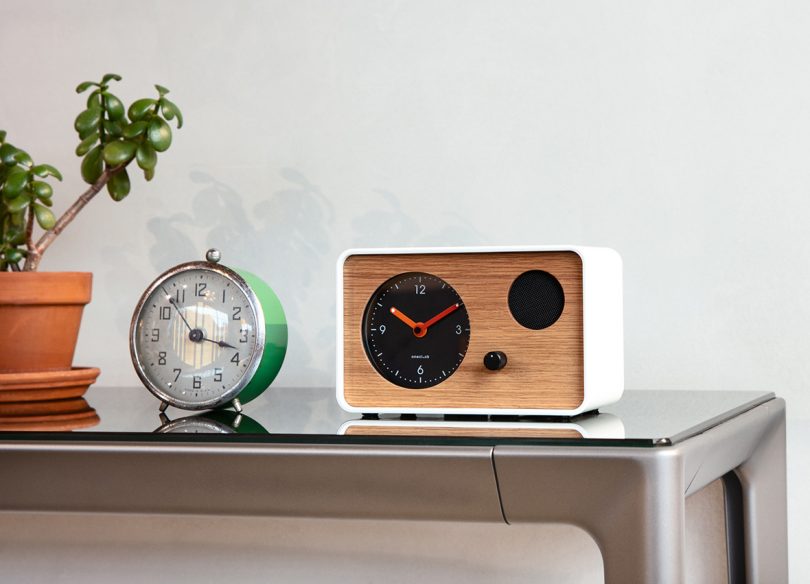 But first about the design: OneClock is unapologetically retro-modernist, presenting a rounded cabinet-style somewhat evocative of a sleeker Henry Kloss designed 1965 KLH Model Twenty One – or its modern day progeny, the Tivoli Henry Kloss Model One. And that's not a knock at all, considering those radios inhabit the realm of good design curated and endorsed by MoMA today (a claim OneClock can also cite as validation to their shared ethos).
In lieu of the FM radio, OneClock's tastefully appointed wooden veneer face is occupied by a trio of elements: an analog clock face, a single speaker, and a lone knurled knob dial. Available in a trio of color options – white, black, and red – the powder coated aluminum in every iteration warmly frames a grained plane of solid white oak, presenting the OneClock as much as an object to openly display as it does a functional timepiece. This minimalist approach to the clock's design pervades across the entire OneClock experience – minimal tactile controls pared downed toward simplicity. Or as the company explains, "No screens, no Bluetooth, no WiFi, no apps, no connectivity." No surprise then to discover the snooze button has been completely subtracted (or as the product FAQ cheekily points out, snoozers are losers), something that surprisingly did prove a big deal because of its effective alarm technique described below.
As a respite from the daily bombardment of screen time, the clock features a subtle warm light placed to illuminate the clock face only when tapped (an accelerometer within registers the vibration from a properly aimed center top tap, turning on the light for 5 seconds before turning off again), offering sufficient light to read the time without disrupting the chance of slumber. The orange hand dials are easy to read, though my nearsighted vision did wish the clock face was a degree larger.
Similarly this ascetic devotion to detail is echoed by the nearly silent operation of the clock hand movement itself. Even with an ear only a few inches away from the clock, there's nary even a hum to be heard. This "sonic silence" is the heart and soul of OneClock's primary function as an alarm, characterized by aural signatures composed to effectively wake users up without the stress normally associated with traditional alarm clocks.
OneClock's alarm sounds range from melodic, to gradual intensity, to those sourced from nature itself. The clock's soundscapes were developed with the aid of a sonic strategist to maximize the device's "get up" efficacy; Grammy-winning musician Jon Natchez (from indie rock band, The War on Drugs) was also brought on to compose seven songs specifically as waking music, one for every day of the week. My preferences leaned toward more ambient soundscapes, alongside sounds from the natural realm, but there wasn't any alarm tone that proved disagreeable to wake up to.
OneClock points out its not enough to equip an alarm clock with a myriad of sounds alone to effectively wake up sleepers day in, day out. The brain can quickly acclimate to drown out sounds heard over and over, so OneClock utilizes generative alarms, choosing different selections at random each morning. It's like having the ultimate remix playlist of songs to get you up out of bed, with every sound or composition option delivering the antithesis of the stressful tonal blare of the traditional alarm.
In my time testing OneClock I found myself looking forward to hearing these slight variations for the calmly delivered novelty alone, something I don't think I've ever said about an alarm clock (or smart phone alarm) in my life. And during the day, it's simply a handsome object that seems deserving of its space on my bedside bookshelf, a reminder that time can be on your side.