PENNA: A Vintage Typewriter-Inspired Bluetooth Keyboard
PENNA: A Vintage Typewriter-Inspired Bluetooth Keyboard
1/6 Photos
2/6 Photos
3/6 Photos
4/6 Photos
5/6 Photos
6/6 Photos
Typing anything more than a word or phrase on your tech device can be painful, which is why wireless Bluetooth keyboards continue to grow in popularity. Elretron designed their very own version, known as PENNA, with a vintage typewriter spin, and despite its retro look, it's anything but antiquated. Besides functionality, the PENNA keyboard aims to provide a stylish design you won't mind leaving out on your desk or table.
The PENNA keyboard offers the feeling of a mechanical one with keycaps that let you know if you actually typed that letter or not, helping to reduce mistakes. The keyboard is available with either Diamond Shape Keycaps (rounded corners give a smooth feeling and aim for more accurate typing) or Retro Chrome Keycaps (more like an old typewriter), depending on your preference. The keyboard layout is a standard QWERTY setup but with added features to adjust volume, brightness, etc. A built-in cradle holder is designed to hold your tablet or smartphone at an ideal angle for viewing while you type.
The macro bar on the left makes for easy saving of often used words, sentences or keys that you can recall by pressing the bar one time.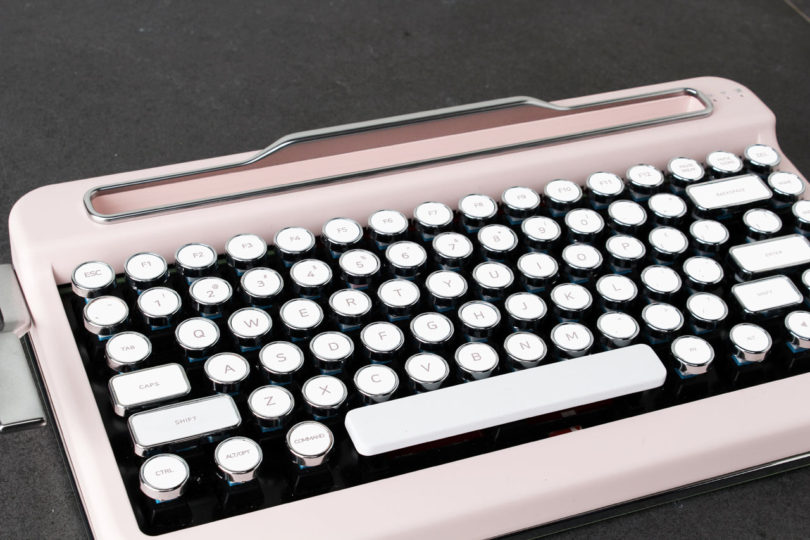 The PENNA keyboard is designed to work via Bluetooth with Windows10, Android, iOS and macOS devices making it a great option for those looking to ease hand cramping. It can be paired with up to 5 devices and easily switches between them.
The PENNA keyboards are available in Elretron's shop here.