Is there anything more annoying than going out to a cafe or restaurant and sliding your bag strap over the back of your chair only to have it end up on the dirty floor one minute later? Also, when your bag is behind you, it's a great way for someone to walk off with it where you might not realize it until the end of the meal. For both cleanliness and safety, having your bag in plain sight while you nosh is ideal. Young Belgian designer Phebos Xenakis has you covered with a cleverly designed bistro table called Trapesi. By modifying the way the legs of a table are attached, Xenakis has added the most practical feature a table could ever have.
A bracket-like structure that fits between the tabletop and the legs is the solution. The structure looks as if its corners are bent down away from the bottom of the tabletop and curved back up, essentially creating a functional hook to rest your bag's strap. The legs are then attached to the corners of the bracket to form a durable table.
The new structural system isn't just practical – it looks cool, as it makes the tabletop look as if it's hovering over the legs in mid-air.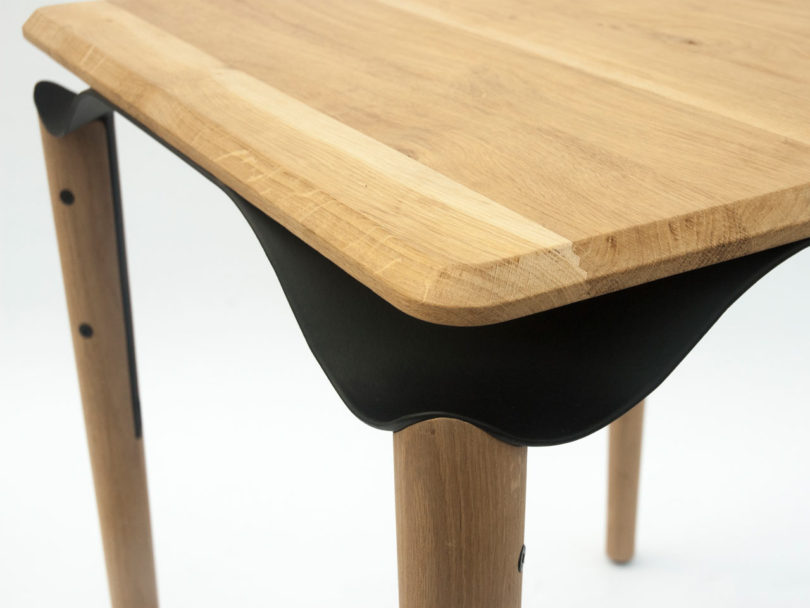 The swooped corners can also hold a newspaper or magazines.
Photos by Nathan Devreese, via v2com.