Everyone knows Poppin for their goal of turning boring office supplies and accessories into fun, colorful objects you want to display and enjoy using. But did you know they've expanded that mission to include office furniture that's practical, functional, and affordable? Part of that furniture line is the Pitch Collection of upholstered seating, which includes a sofa, club chair, sled chair, and rolling chair. For this month's Deconstruction, Poppin takes us inside their factory to see how the Pitch Club Chair and Pitch Sofa are made.
Our Pitch Lounge Collection was conceived as a more tailored and intimate companion to our successful modular Block Party Collection.
The initial challenge was to make a contract-grade chair of this size and scope that could be kept perpetually in stock and ready to ship at an affordable price.
The seats of the Pitch Chair and Sofa are angled — or "pitched" — at an angle ideal for upright sitting in more formal spaces like reception or executive offices.
We use Computer Numeric Control (CNC) patterns to ensure each chair comes off the production line perfectly; the high-tech touch ensures consistency and accuracy of design intention.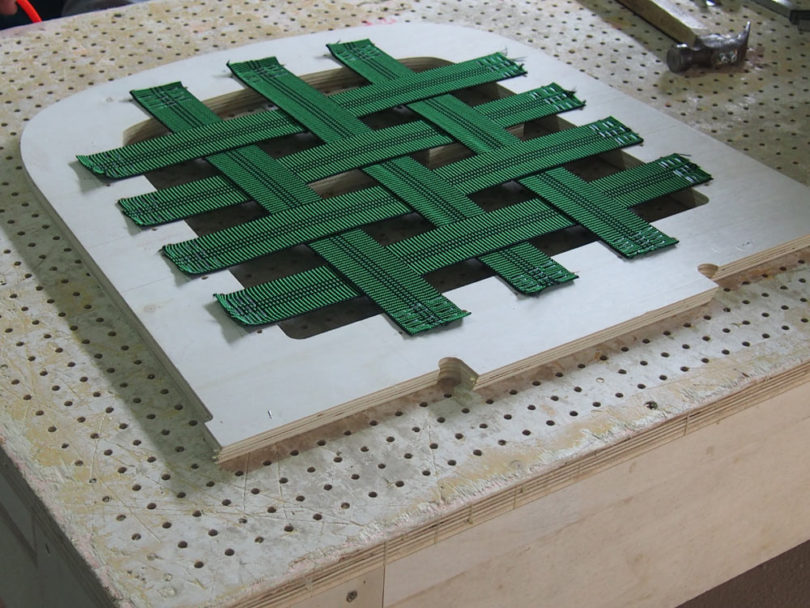 We've designed the Pitch Chair and Sofa with woven webbing straps to maximize comfort beneath the foam.
All the edges are sanded in order to create a smooth base for the foam and upholstery, ensuring the sitter doesn't encounter any hard edges in the curved design.
We pride ourselves on the durability of our furniture collection: all of the pieces of the Pitch are mechanically fastened for longevity for daily use in the office.
All of the foam we use is custom-molded for consistency and a nicely contoured ergonomic shape. That also allows the fabric to fit over the base like a puzzle, resulting in the clean lines that the Pitch is known for.
As we moved into the contract furniture space, we chose the high-quality Gabriel Medley fabric for the subtlety it brought to the existing Poppin palette. The "medley" detail of the fabric brings a pop color without the high level of saturation of our desktop collection.
In the final Pitch product, there are very few seams. Our backrest is upholstered separately from the seat and put on at the very end to complete the clean, nearly seamless look.
The finished Pitch Club Chairs (above) and Pitch Sofa (below) are available in Blue, Dark Blue, and Dark Gray.