Pretty in Pink: 10 Modern Spaces That Will Have You Thinking Pink
Pink continues to dominate the design world, whether it's neon, hot, baby, pastel, or millennial. You can go big, like designer Dani Dazey, or add hints of it if you're more color curious – either way, you can't go wrong. If you're ready to start thinking pink, see below for some pink interiors or check out some cool, modern pink accessories to accent your space with a bit of whimsy.
Pretty in Pink: 10 Modern Spaces That Will Have You Thinking Pink
1/11 Photos
2/11 Photos
3/11 Photos
4/11 Photos
5/11 Photos
6/11 Photos
7/11 Photos
8/11 Photos
9/11 Photos
10/11 Photos
11/11 Photos
Designers Lera Brumina and Artem Trigubchak collaborated on a bakery and cafe in Odessa, Ukraine, that resulted in an eye-popping interior perfect for Instagram. The Breadway Bakery boasts a happy color palette – especially the varying shades of pink – and an array of textures that joyously come together in the 85-square-foot space.
Located in Born, one of Barcelona's oldest neighborhoods, this 65-square-meter apartment is housed in a building that's dated back to the 13th century. A young Italian woman who works in fashion purchased the flat and hired Colombo and Serboli Architecture (CaSA) to completely refurbish it. The transformation resulted in a new, more open layout with vaulted ceilings, a playful color scheme, including pink, and original details.
A young couple with a child enlisted the help of ater.architects to design their new home in Kiev, Ukraine. The VOV apartment spans two floors with separation between 'day' and 'night' zones. The couple, who are fond of fashion, music, and art, now reside in the 100-square-meter apartment with pink accents that plays off their modern interests.
Decked out in black and white stripes and bubble gum pink, The Pink Zebra, aka Feast India Co., is bound to catch everyone's eye from a distance, thanks to Renesa Architecture Design Interiors Studio. Located in Kanpur, India, this restaurant/bar's design is based on the designer's thought, "How about we dip a zebra into a deep pink sea?"
Designed for a young couple who share a love of travel, the Momo Apartment showcases their adventurous spirit across the 89-square-meter interior. Toki Home reimagined the apartment's layout and designed the space to reflect their personality and daily living habits. Located in Ho Chi Minh city, Vietnam, the new apartment features a bold new color palette with major pops of pink, teal, and peach.
Perhaps no creative studio has had more fun working on an office design than JA!COCO! Studio, who turned a dated Edwardian townhouse office into a vibrant headquarters for Beer52, a craft beer club service in the UK. Straying away from the typical "tech bro" interior design tropes, JA!COCO! incorporated a home-brew lab, gym, and sauna – all tastefully designed in a colorful style that is equal parts David Lynch and Roald Dahl.
In the old town of Riga, Latvia, the Redstone Hotel, designed by ANNVIL Interior Architecture, is a boutique hotel that's taken on a very interesting design choice in which each of the top four floors containing guest rooms are all designed in a monochromatic color scheme. The fourth floor happens to be pink where they've used several shades that blend seamlessly.
Designed by M. Brendemoe, this playful room has cotton candy pink walls, a two-tone green sofa with multicolored throw pillows, and a painting that ties it all together.
Child Studio designed a restaurant on King's Road in London called Humble Pizza. Known for its association with British fashion, music, and pop culture, the neighborhood offered vast inspiration to the designers when creating the Instagram-friendly interior. The can't-miss-it pink exterior stops traffic right from the start and continues inside with wall-to-wall pink Formica.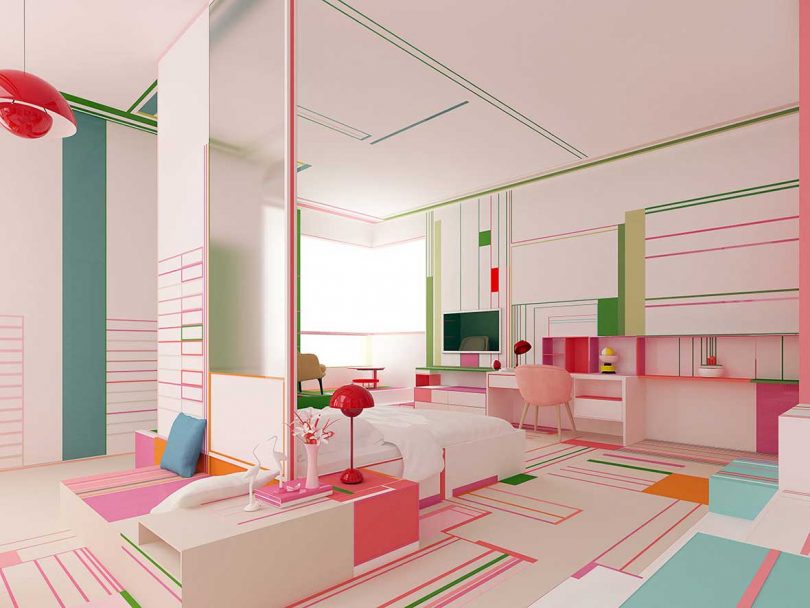 Pink Lake Breath takes inspiration by lakes that are pink in color with white sand surrounding them, evoking a sense of bliss. Brani & Desi aimed to recreate that feeling in order to inspire the inhabitants to find a deep connection within themselves. With color's ability to enliven us, as well as create a calm mind, the space is bound to conjure up feelings of happiness and contentment.