This stately private residence was designed by The Manser Practice within a woodland near Henley-on-Thames. Spread out over 500 square meters (or 5,382 square feet), the stone home was built for a professional couple and includes two wings – a living wing and a bedroom wing.
The exterior is clad in Cotswold stone giving the home a rugged, yet refined look. When you think of stone buildings, you tend to think of historic architecture, but they've paired the stone with modern details to keep it contemporary.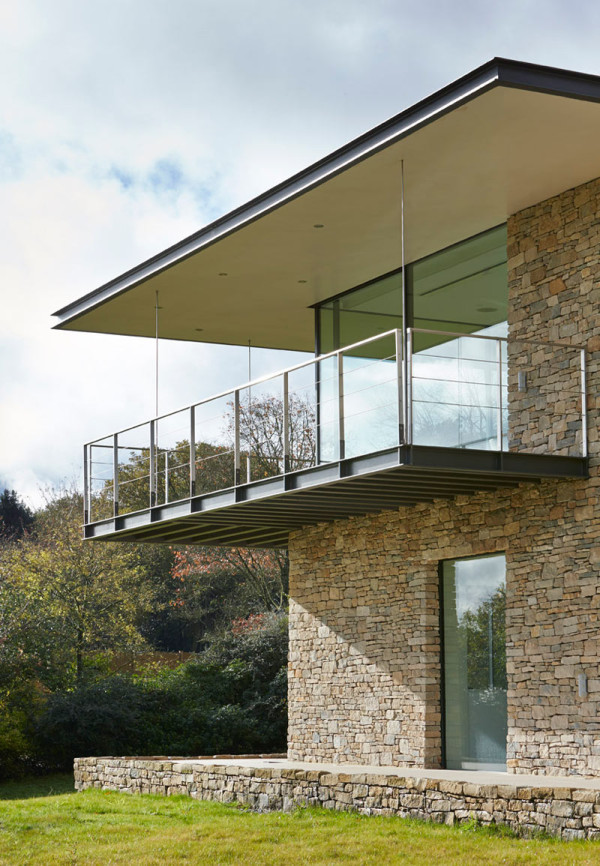 A cantilevered terrace was built around the second floor helping to provide extra square footage. It also mimics the extended stone terrace on the first floor that also wraps around the house.
That glass enclosure you spot there above, well, it holds a heated indoor pool that makes you feel like you're swimming outdoors all year long.
The clean panels of floor-to-ceiling glass frame the views and don't disrupt them.
The glass walls and ceiling slide back into the house so that the pool is outdoors when there's nice weather.
The minimal staircase divides the two sections of the house.

Design From Around The Web