This residence in Osprey, Florida is the vacation compound of a Minnesota family that consists of a bay house, main house, and beach house.
With a design by TOTeMS Architecture and an interior by Studio Hive, Inc., the home is inviting, comfortable and cozy feeling less like a beach house and more like a permanent home. Indoor/outdoor living is emphasized with large windows and sliding glass doors that open up to a vast outdoor balcony space.
From the designers:
The design of the interior space is directly influenced by the unique landscape with windows framing breathtaking views in every direction. The palette of materials is inspired by the colors and textures of the gulf, sky, sand and native vegetation. Each element is careful not to disrupt the overall balance of the space. The bedrooms, living rooms, and office spaces reflect the lifestyle of a multigenerational and extended family with evolving needs. Versatile and inviting spaces allow for intimate family gatherings as well as formal entertaining, and equally foster privacy and personal retreat. The house is designed to be comfortable whether it's for two people or ten people. The goal of the client and design team was to "respect the people and the land and the rest will follow." Considerable attention was paid to preserving the natural beauty and delicate ecosystems on the site. The goal of the main house was to create living spaces that responded to the unique location and met the needs of a multigenerational family. The bay house, constructed first on the site, was designed as a relaxed retreat for guests.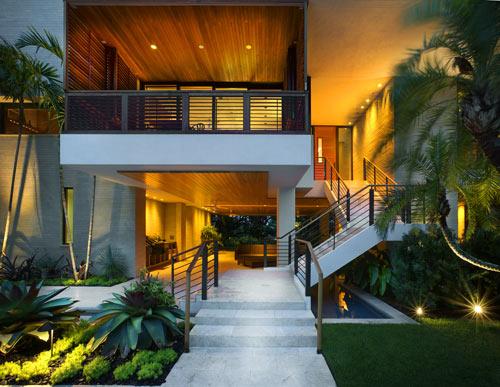 Photos of the Bay House (retreat for guests):
Photos: Greg Wilson
Architect: TOTeMS Architecture
Interior Design: Studio Hive, Inc.