I recently had a conversation with someone in which we talked about auctions being intimidating. In the past, I've always thought of them as being for people who have lots of money to spend or perhaps for the career "flipper" who can buy low and sell high. I've been to a handful of live auctions myself (many moons ago) and I admit that they can be a bit overwhelming to the rookie, with the large crowd and the fast-paced auctioneer. However, it's actually not all that intimidating if you're prepared and you do your homework beforehand. In fact, treat it like an urban flea market full of the best stuff EVER.
If you've been itching to try an auction, you're in luck! RAGO has two auctions coming up with no reserves: Early 20th C., Fine Art, Estate goods & Danish Modern (Lots 1-580 \\\ Saturday, January 10 at 10 AM) and Modern Design and Contemporary Art (Lots 601-1371 \\\ Sunday, January 11 at 10 AM).
RAGO is located at 333 North Main Street, Lambertville, NJ, which is between NYC and Philadelphia. It's a lovely little town with lots of design history worth visiting, too along with its charming neighboring Pennsylvania town, New Hope. However, if you can't make the auction that doesn't mean you can't bid! However, if you're totally weirded out about the idea of being present in that room full of people with paddles, you can bid by phone or online. The RAGO team is super friendly and committed to helping you. There's some myth out there that auction houses are snobby and only interested in catering to the highest bidders, but in fact, the RAGO team is down-to-earth and they want the best for the pieces they're selling. Before the auction, you can contact them to ask about how much interest there is in a piece, the estimated price they expect it to sell for, possible shipping costs and taxes and any other questions you might have about the bidding process.
RAGO has also created a great video that walks you through the bidding process:
The best things about buying at a RAGO Unreserved Auction are that you'll find unique pieces, originals and authentic designs of some of the top names in modern, mid-century design (*cough* Eames *cough*). Plus, buying vintage is probably the best contribution anyone can make to the planet—essentially it's recycling! At an unreserved auction you don't need to meet a minimum price—everything sells for the top bid, even if it's only $20! The average selling price in RAGO Unreserved is $300-500. The pieces that you're buying at auction are an investment, which means in 20 years, you could resell them at auction and perhaps make a profit yourself!
Imagine owning vintage Eames chairs, a Lichtenstein lithograph or original Alvar Aalto Paimio chairs? Well, that time is now! Here are some of our favorite lot picks:
Lot No. 486 Arne Jacobsen for Fritz Hansen Egg chair, Denmark, 1950s; Aluminum, vinyl; Raised signature to underside of base (est. $800-$1200)
Lot No. 524 Poul Henningsen PH/5 Table Lamp, Denmark, 1960s; Enameled aluminum and brass; Remnants of paper label (est. $400-$600)
Lot No. 554 Alvar Aalto pair of "Paimio" lounge chairs, Finland, 1980s; Enameled seats, birch frames; Unmarked (est. $1500-$2,000)
Lot No. 604 Le Corbusier/Cassina "LC4" adjustable chaise lounge, Italy, 1970s; Chromed and enameled steel, leather; Stamped maker's mark (est. $400-$600)
Lot No. 689 "Arco" adjustable floor lamp / FLOS, Italy, 1970s; Marble, stainless steel, polished and painted aluminum (est. $800-$1000)
Lot No. 709 Jean Prouve for Vitra set of four "Antony" lounge chairs, Switzerland, 1954-2002; Enameled steel, painted wood, aluminum; Metal labels (est. $500-$700)
Lot No. 713 Pierre Paulin for Artifort "Oyster" lounge chair, France, ca. 1970s; Enameled wood, chrome; Unmarked (est. $400-$600)
Lot No. 824 Jere "Porthole" mirror, Los Angeles, 1976; Brass, mirrored glass; Signed and dated (est. $200-$400)
Lot No. 858 Tom Green Brutalist seven-light chandelier, 1960s; Hand-torched patinated brass; Unmarked (est. $800-$1200)
Lot No. 1084 Warren Platner chairs for Knoll, New York, 1970s; Nickeled metal, upholstery; Manufacturer's labels (est. $800-$1000)
Lot No. 1087 Charles And Ray Eames set of four shell armchairs, Zeeland, MI, 1960s; Plastic-reinforced fiberglass, chromed steel, rubber shock mounts (est. $2,000-$3,000)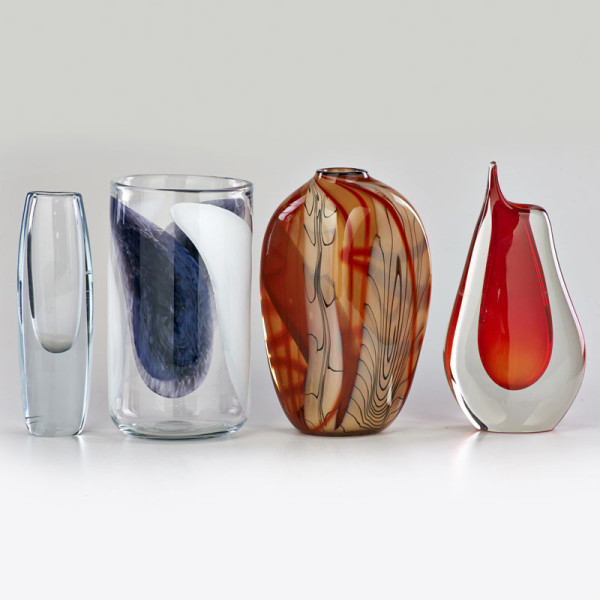 Lot No. 1121 Mid Century Glass set of four vases: two sommerso, one with oblong inclusions, and one similar, Italy and Scandinavia, ca. 1990s; Most with etched signature (est. $200-$300)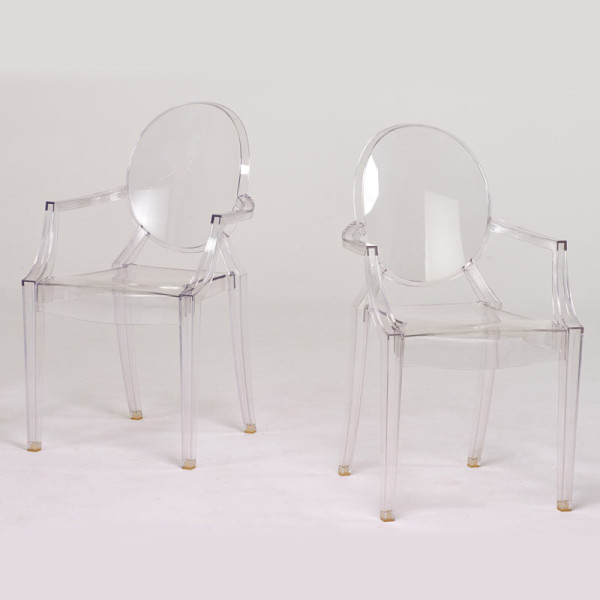 Lot No. 1134 Philippe Stark for Kartell pair of "Louis Ghost" armchairs, Italy, 2000s; Acrylic; Impressed marks (est. $150-$250)
And the artwork is off the hook awesome…
Clockwise from top left: Lot No. 634 Joan Miro color lithographs (2): Litografia Original IX and X from "Joan Miro Lithographies," 1972; Printer: F. Mourlot & Michel Leiris, Paris; Maeght Editions; 13″ x 20″ each (est. $400-$600); Lot No. 788 Al Held untitled lithograph (framed); Signed on verso (est. $600-$800); Lot No. 1022 Roy Lichtenstein offset lithograph in colors (mailer); "Crying Girl," 1963; Publisher: Leo Castelli Gallery, New York (est. $800-$1000); Lot No. 1025 Andy Warhol Soup Plate Rosenthal Studio Line Campbell's Tomato Soup plate in original box; Numbered 338/500 (est. $300-$500)
Here's some more info about the auction and a preview video:
There will be a preview at RAGO January 8, 12-5 PM and January 9, 12-7 PM or by appointment. Doors open on the sale days at 9 AM.
Also tomorrow, January 6th, at 6PM, RAGO will host a panel entitled "Five under 30" featuring five of Rago's young cataloguers who will each introduce a favorite piece from the auction.
View the complete auction catalogues with color images online at ragoarts.com, where you can also register to bid online.
If you have any questions about the pieces or bidding, you can contact Anna ([email protected]) and Lelia ([email protected]) or call them at 609.892.8260. Tell them Design Milk sent you!