After working in a home office for a number of years, architect Randy Bens decided it was time to expand his practice in New Westminster, BC. Instead of renting a commercial office, he chose to make use of his backyard where he'd still be in close proximity to home. The solution? A modified shipping container that became its own self-sufficient hub complete with a bathroom, kitchenette, and an open studio space.
Watch the install:
The shipping container was designed offsite and delivered to its resting spot about 95% complete.
The new office offers additional space for employees, more room to spread out, and the perfect spot to meet with clients and contractors.
The oversized corten steel shipping container spans 40′ long, 11.5′ wide, and 9.5′ high and is built to last making it a smart option, especially if they decide to move and carry it to the new location.
A smaller foundation was built so the 350-square-foot structure would cantilever out making it look as if it's floating.
The original 1930's house supplies the office with it's water, sanitary, power, and data which was run underground to the base of the container.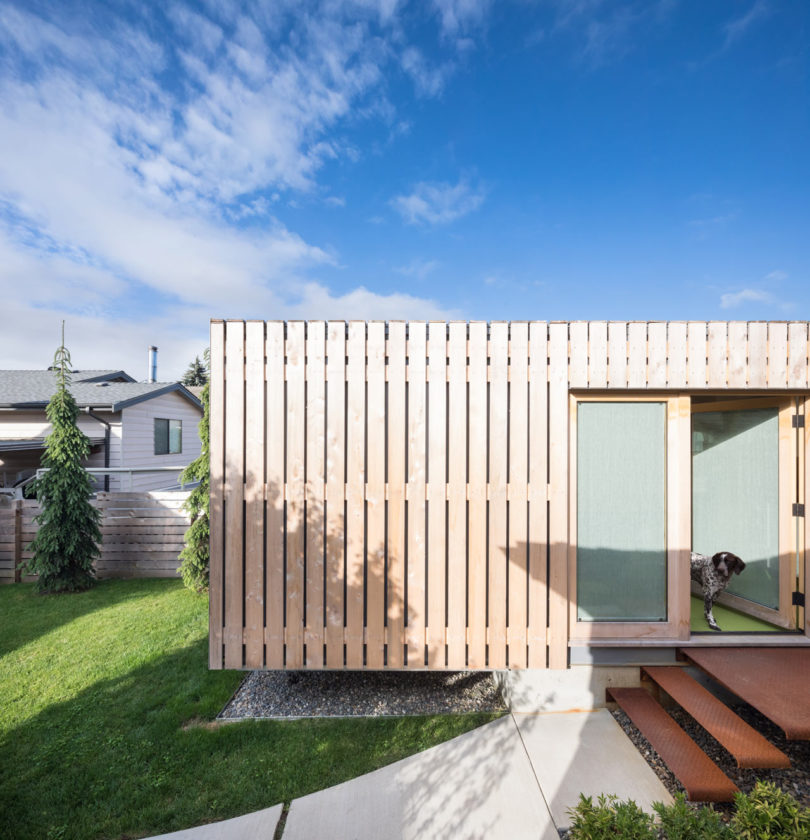 The exterior is clad in yellow cedar due to a requirement of the city where all shipping containers must be covered. The vertical panels, along with the window and door, will weather over time to a natural grey patina. The steel stairs have already begun to rust after one winter season.
Inside, the surfaces are decked out in birch plywood for a clean yet warm look, while the 19′ long desk is made from Douglas Fir.
Photography by Ema Peter.