I've spent the past week de-cluttering, or Kondo'ing, my apartment. I had (somewhat smugly) thought that I had a pretty decent handle on clutter since there's nothing like a cross-country move to make you tidy up. (New York to California, in my case.) But I somehow managed to clean out five bags of clothing, four boxes of books and two giant bags of paper (all Goodwill or recycled). The true magic of the book wasn't in how to decide what to get rid of, but really thinking about what are the things you want to live with and what's important to you. So it was fitting that I also spent the week talking with the team at Nau Clothing about their newest products. The fact that permanence is a central to the company's philosophy is what led the Design Milk team to initially discover Nau four years ago. And during these past four years, Nau has been hard work continuing to refine their process for creating sustainable clothing. During that first interview with Nau, they told us that their company goal was to "unf*ck the world," and after spending the week talking to them about creating sustainably produced clothing, it's clear they were serious.
This year, they turned their attention to down. Feathers have been keeping humans warm since the pretty much the dawn of time, and synthetics just don't don't provide quite the same awesome warmth coupled with an ethereal lightness that designers love. Nau loved using down in performance wear, and they wanted to feel great about the down they used. So, they spent the past year paving the way for recycled down. They even jumped through all the U.S. legal hoops, creating an avenue for the first recycled down to enter the American market.
In Europe, down has been the number one way to keep warm for centuries — after all, the duvet is a European invention. If you're thinking that centuries of down use translates into a lot of duvets, then you're thinking like Nau. They collaborated with European partners to find a way to bring all that post-consumer down back to the market. "We're always digging around," said Mark Galbraith, Nau's General Manager. "Sometimes the breakthroughs are about putting together some simple pieces, which can change the way we approach the supply chain."
And the recycled down is inherently simple process, but putting together all the pieces has taken years. The down is first collected in Europe from old duvets and pillows that would be otherwise be discarded. Those duvets are cut open and the collected down is sent to a high-end down processor in Budapest, Hungary, where it goes through the exact same cleaning process as new down. Then it's tested, inspected and sorted for quality and fill power. Nau takes only the highest quality recycled down — 650-fill power — for use in outwear.
Men's designer, Peter Kallen, said that down had long been a favorite materials to use in Nau designs. "I love that material. I love the form and dimension and performance standard." And Peter explained that the fantastic thing about using the recycled down was that unlike other recycled products, you didn't have to treat it differently. It's identical to using new down — just from a more sustainable source. "It's a great thing because there is so much value in the reclamation process," said Peter. "We have this feeling that we're giving it a new life."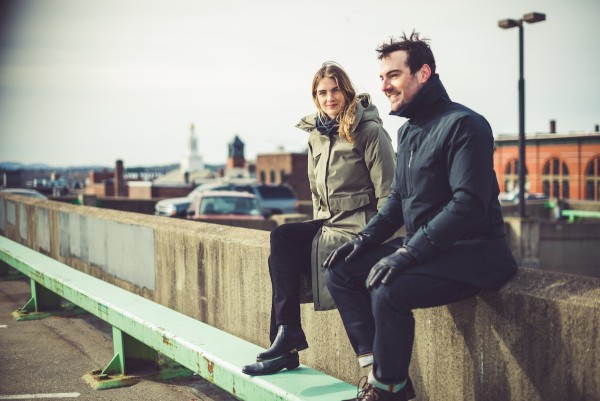 Because working the recycled down is the same as working with new down, the design team didn't have to change much about their process. Peter explained that his design strategy is usually one of reduction, "I like to take away. Take away until it's left with its essence and just enough cues and elements. Then it becomes complete at that point. Down as a raw material allow such great exploration." Through that reduction the designers aim to arrive at classic pieces that are not subject to changing whims of fashion. A piece that will stand not only the test of time but also the Marie Kondo joy sparking test. These are pieces that are meant to be closet-go-to's for years to come, and knowing that they came from a completely sustainable source is icing on that fashion cake.
For a behind-the scenes look at creating recycled down, watch Nau's recently launched video series, The Story of Recycled Down, that chronicles the process.
Shop Nau's recycled down and new Fall collection.