Just because a home is from another era doesn't mean it can't be modern. This flat in London is located within a Georgian townhouse that was built in 1860 and despite keeping many of the original period details, Architecture for London refurbished it to look clean and contemporary.
The first floor unit now has a simple modern kitchen with gorgeous details like the Carrara marble used on the backsplash and for the countertops.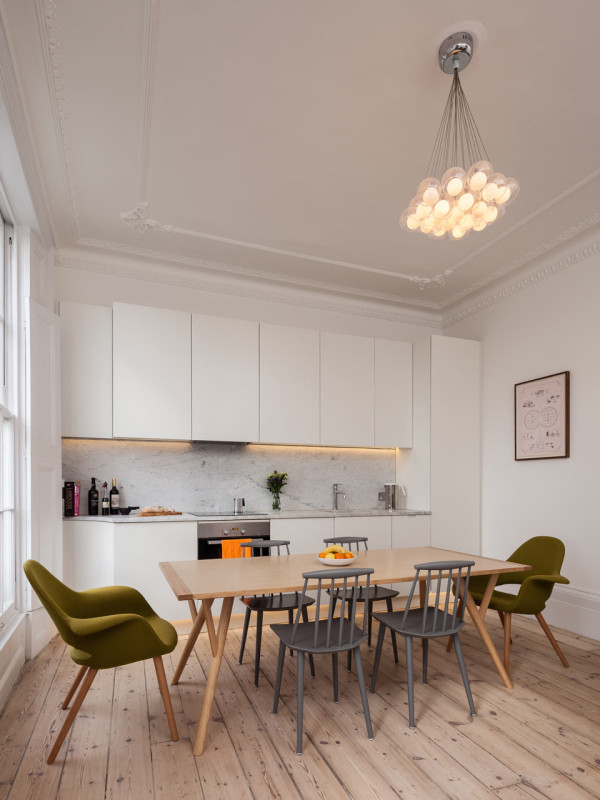 Years of paint were removed to reveal original cornices and plasterwork which were repaired and kept throughout.
The floors were heavily damaged and varnished, so they were sanded down to the bare wood and soap stained to keep them looking natural.
The charming details that maintain the historic nature of the building blend well with the classic furnishings that were brought in to decorate.
The same Carrara marble used in the kitchen was also used for the fireplace mantle.
I'm pretty obsessed with this bedroom where everything above the floor is painted black. The floors are kept natural and along with the bed, the wooden elements balance out the darkness of the space.
The dark walls and ceiling make the bedroom cozy and warm, and the colorful bedding really stands out in the room.
This bathroom! The warm grey tiles are laid out in a herringbone pattern on the floors and all the way up the walls creating unbelievable drama. I also love how they painted the feet of the "claw" foot tub a bright yellow.
They incorporated in-floor heating and fog-free mirrors to round out the incredible space.
Photos by Simon Maxwell.