The Renault Trezor Concept embodies everything one hopes to witness at an auto show, a  future-forward vehicle expressing the technological trends just over the horizon with brazen élan. Unveiled at the 2016 Mondial de l'Automobile, Paris auto show, the sophisticated predatory curves of this vehicle hide a jaw-dropping ace card, one that makes getting in and out of the car a production unto itself.
Technically a two-seater should offer two doors, but the Renault TREZOR Electric Coupé Concept's accessibility takes a more unusual route, ditching doors completely. Without any doors, passenger access and egress is offered in audacious fashion: the near entirety of the vehicle's canopy top lifts upward and forward, like a gentleman tipping his cap. One should note, this gentleman in auto guise also is capable of jetting down a stretch of highway at 62 mph in less than four seconds, powered with a seemingly modest 349 horsepower (good for 280 lb-ft of torque) under its hood. This is all possible thanks to its efficient electric powertrain, low and wide proportions, and carbon-on-steel-frame construction.
The interior is nearly as preposterous as its eye-catching exterior, the interior adorned in bright red ash wood and even deeper red leather seating, all encompassed within a red-tinted single-piece wraparound windshield that transforms the interior into a scorching hued driving experience.
Luggage is stored at the front of the dash in a bespoke compartment secured with diagonal belts. If this isn't overwhelming enough, the car's instrument panel is handled across the expanse of three OLED touchscreen, where drivers can access three operating modes: Neutral, Sport, and Autonomous. The first two are self-explanatory, but in its third mode the TREZOR transforms to notify other drivers the car is literally out of your hands, extending the car's rectangular steering wheel outward for a better view of the OLED displays, while also altering exterior lighting to communicate autonomous mode to others on the road.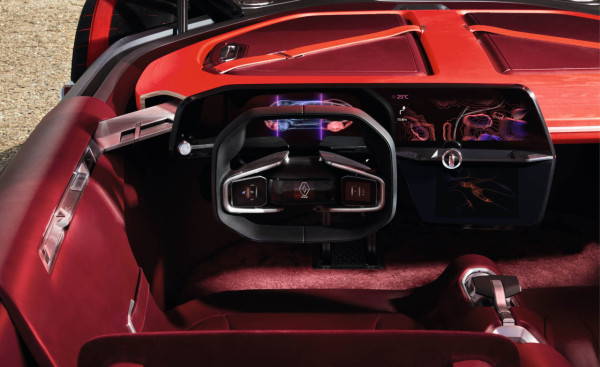 As concepts go, the Renault TREZOR is best accepted as a symbolic gesture rather than a promise, one representing the car manufacturer's biggest and boldest ideas in one-of-a-kind form. We won't likely see the TREZOR on roads in years – or ever – but we're appreciative Renault brought their wildest dreams onto the show floor of the 2016 Paris auto show.