Osaka-based interior designer Yukio Kimura, of kräfte, took on the renovation of KK Apartment, a reinforced concrete frame apartment in Osaka, Japan. The overall design is quite minimal, letting the family live and enjoy the space, while also being a space that will grow with their child.
Kimura kept the space scaled back and simple, wanting the family to be the ones that liven the space as they move about and enjoy the apartment.
Working with a tight budget, mortar was used on a good portion of the walls and laminated wood on the floors. Much of the floor is painted white, keeping the space light and fresh, while a long pathway from the entrance through the center of the apartment is kept natural helping to elongate the room.
Since the apartment is in an old building, they left the ceilings alone as not to drop them anymore. They kept the original mortar beam that runs the length of the space as it makes a visual impact.
The white paint on the floors also separates the room's uses into dining room and living room.
Smaller floor panels were used in the narrow entryway with the wood grains alternating to create a cool pattern.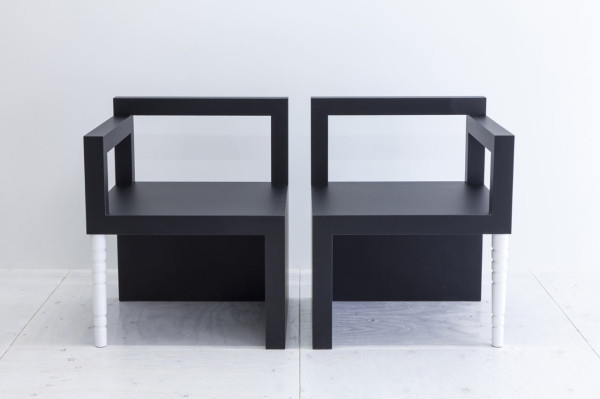 Inside the apartment, Kimura also designed the pair of chairs used in the dining room. The KK Chair was inspired by the human – with the black heavier part and the simple white leg representing the heart, since humans have both a dark and pure side to them.
Photos by Kiyotoshi Takashima.