Fresh off their sold-out PANTONE Color of the Year sneaker collaboration in Classic Blue (Buy Men's or Women's), Brazil-based CARIUMA is once again working with the famed color institute on a new, limited edition collection for fall. The PANTONE + CARIUMA Collection marries the brand's signature sneaker, the OCA, with five PANTONE colors inspired by the vibrant colors found in nature in various spots around the world. Available in men's and women's low and high-tops, the 100% vegan sneakers are handmade with organic cotton canvas and ethically tapped raw natural rubber making them sustainable, which should make you feel as good as your feet will while wearing them.
Made with raw, high-end materials, the sneakers feature lightweight cushion technology, a perfectly-weighted rubber sole, and a classic capped toe for the perfect everyday show to kick around in.
In addition to using sustainable materials, CARIUMA uses high-quality boxes made from recycled and recyclable materials. The company has also just launched a new initiative this summer where they plant two trees in the Brazilian Rainforest for every pair of CARIUMA sneakers purchased, helping to aid reforestation and the preservation efforts of the founders' homeland.
Blueprint is a color perfect for the ocean lover that respects the earth and their environment while giving nod to the horizon where the ocean blends with the sky. Shop OCA Low Sneakers >>> Blueprint Men's | Blueprint Women's
Picante is for those who seek the desert, loving the red clay and amber rocks of Sedona, Arizona, where the dry heat has a meditative feel that helps sweat out body toxins. Shop OCA Low Sneakers >>> Picante Men's | Picante Women's
For the free spirit, Snow White was made for the wanderers with restless souls able to survive and thrive in the harshest of conditions, like the snow capped mountains of Everest. Shop OCA Low Sneakers >>> Snow White Men's | Snow White Women's
For all the night owls, Moonless Night is for those that do their best work after the sun sets, where you find yourself most at peace. You can see the stars then while finding comfort in the stillness and solitude. Shop OCA Low Sneakers >>> Moonless Night Men's | Moonless Night Women's
Bungee Cord is for those adrenaline junkies looking for their next adventure, whether it's mountain climbing, bungee jumping, or skydiving. Shop OCA Low Sneakers >>> Bungee Cord Men's | Bungee Cord Women's
Shop OCA High Sneakers >>> Moonless Night Men's | Moonless Night Women's
Shop OCA High Sneakers >>> Bungee Cord Men's | Bungee Cord Women's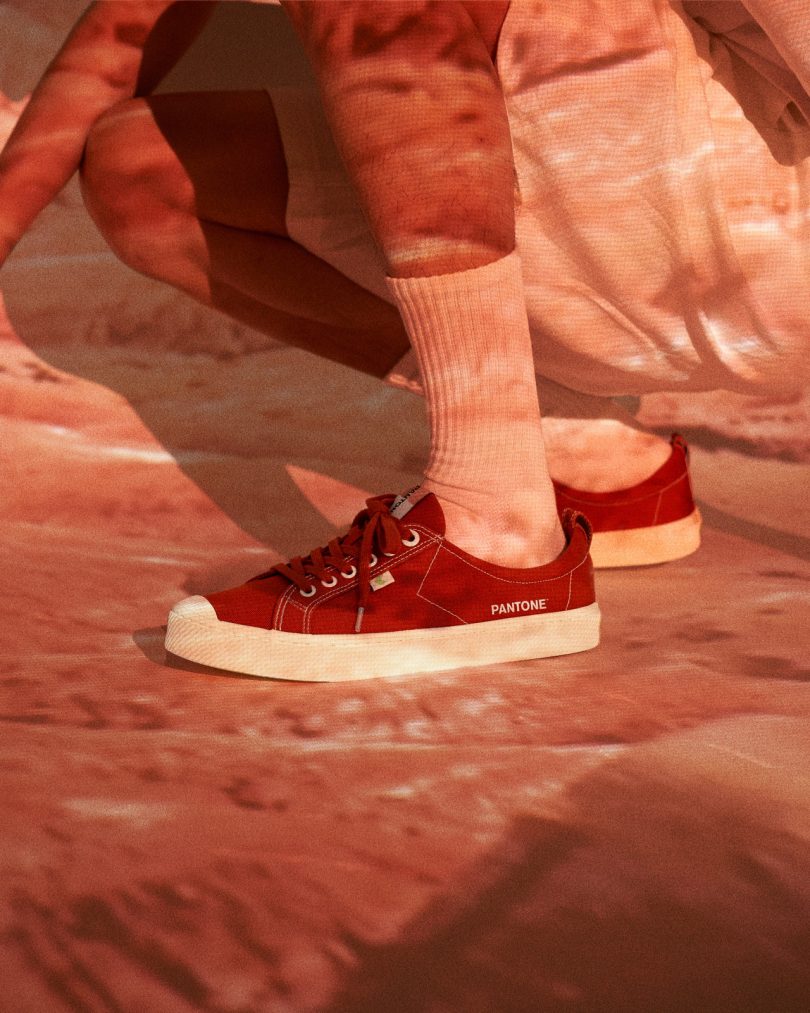 >>> CARIUMA's limited edition PANTONE + CARIUMA Men's and Women's Collections are available in the Design Milk Shop here! The OCA Low sneakers are priced at $89 and the OCA High are $98. <<<