It's difficult to imagine returning to a single screen after years of doubling up with two monitors at home (my current setup: an Apple iMac linked to a secondary older model Thunderbolt Cinema Display). The premise of switching back to a single screen seems an undesirable downgrade, considering all of the benefits two screens offers. Then this 49-inch wide Samsung CHG90 QLED Monitor appeared on the radar, and suddenly, going solo doesn't seem quite the unreasonable proposition.
Outfitted with an immersive 3840×1080 pixel resolution, ultra-wide 32:9 curved screen, the Samsung 49″ CHG90 QLED requires enough desk real estate to handle its enormous expanse – for all intent and purposes, the equivalent of two 24″ displays fused into a single continuous screen (the wide supportive base shares strong semblance to the stands outfitting Samsung's current line of televisions).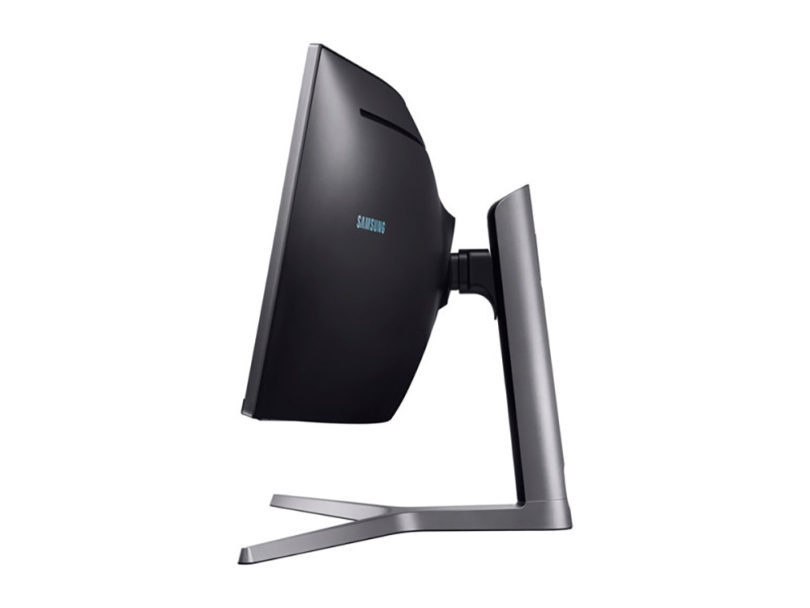 Aimed at gamers, Samsung gave their technological flagship and conversation piece all the bells and whistles: Quantum Dot nanocrystals specs, the rainbow offered by DCI-P3 color gamut support, and in service of gamer's interests, HDR-ready AMD FreeSync 2, and an all important 144 Hz refresh rate for fasting moving games.
Even subtracting gaming out of the equation, Samsung's $1,499 QLED monitor presents a strong case for the eventual demise of dual screen setups for productivity in the creative, financial, and scientific fields, wrapped within the glow of ultra-wide screens.