Earlier this month, I took a vacation to the Pacific Northwest and visited Portland for the first time (I know, where have I been?). I've learned a few things from the trip. 1) The best fried chicken of your life will most likely be at Screen Door. 2) Yes, the wait for Salt & Straw ice cream is worth it. 3) The best kept secret of Portland (and the absolute highlight of my trip) is a visit to Schoolhouse Electric's brick & mortar store in their expansive, century-old factory.
As a design lover, I realize this declaration might sound a bit biased but when my group of friends with all different interests agreed that this storefront was one of the coolest stores they'd ever been to, I knew this place was special. Admittedly, I didn't know much about the history of Schoolhouse Electric prior to visiting but after taking a behind-the-scenes tour of the factory with Andy, a sales associate at the store, and learning about the company's roots, I admire the company even more. Schoolhouse Electric focuses on quality, not quantity, and really champions this idea through their model of full vertical integration and preservation of American manufacturing (more on this later). The brand also is a big proponent of the idea of community and creating a space that cultivates it, which is apparent when you visit the store as it also has a coffee shop, a workspace, and a design library.
Today, we chat with Sara Fritsch (who does it all as Schoolhouse Electric's Vice President of Product, Brand, Marketing, and Sales) about its history and what's in stores, right now and in the future, for the company.
Why did you pick this storefront?
Our brand is unique in that we have full vertical integration. For Schoolhouse Electric, that means we have product design, development, innovation, engineering and manufacturing, as well as all other aspects of our business – brand, marketing, HR, IT, warehouse, finance AND retail space – all under one roof at our Portland headquarters. Our current location in the industrial northwest corner of Portland is zoned for manufacturing, yet is still convenient and inviting for customers.The re-purposed factory has been converted in a way that also provides inspiring collaboration spaces and a productive work environment for all 145 employees, across four floors of the same building.
Where did you get the name for the store?
The company's full name is "Schoolhouse Electric & Supply Co." The brand was born when our founder, Brian Faherty, discovered a set of turn-of-the-century, cast-iron glass shade molds in 2002. The glass molds were for authentic "schoolhouse" style shades, so he purchased them and used them to create our first product line of vintage inspired fixtures with schoolhouse style shades. The molds and their shades were the clear inspiration for our name. "Schoolhouse Electric Co." opened shop in 2003 in SE Portland. In 2011, we extended our official name to include "& Supply Co." to account for our fast growing lifestyle assortment (hardware, furniture, art, bedding, kitchen and bath wares, etc.). These days, we refer to ourselves most often as "Schoolhouse".
Has it changed much since it opened? How?
Yes! We saw a need and demand from our customers for more lifestyle and home decor items, so those product lines have been steadily expanding over the years. We are always recreating and reimagining our retail spaces to align with our seasonal product launches and the associated themes and messages.
Well beyond frequent store merchandising, the change we are most proud of is the increase in community engagement with our space. Having an in-store coffee shop (in Portland) and approachable atmosphere has made it a destination for community connection and collaboration. We design spaces within the store specifically to make people feel welcome and comfortable enough to stay a while. This includes an extensive design library, cozy seating options, and thoughtful work stations. We also plan and host events to bring likeminded community members together (most recently, an evening with graphic artist Anthony Burrill during PDX design week, which involved an intimate book signing and Q&A). From the beginning it has been our vision for the space to be as much a resource for the community as it is a retail store – fulfilling that vision takes intentional experimentation, listening, and time. It has been very rewarding to bring this vision to life – often exceeding our own very high expectations.
Thanks to customer demand and a desire to reach an east coast audience, we opened a small store in the Tribeca neighborhood in Manhattan in 2006, and we plan to open another east coast location in early 2018.
What's one of the challenges you have with the business?
Can I name two? 1) The lighting industry is changing fast, driven by rapid advancements in LED technology. This makes the market demand a moving target and forces us to stay nimble, relevant, and educated. 2) We can only fulfill demand as fast as our supply can keep pace. Our business model (full vertical integration including American manufacturing), relies on a diverse and complex global supply chain. Keeping all aspects of that supply chain healthy through a multi-year trajectory of rapid growth is not easy.
What other stores have you worked in before leading this one?
After studying mechanical engineering and studio art in college, I spent the first 15 years of my career in business consulting where I had several retail clients across multiple industries – from retail banking to high-tech manufactured goods, to lifestyle brands. Back in college I worked for Michael Kehoe, a locally owned, quality focused, and highly curated men's clothing store in Burlington, VT. Established in 1977 and still going strong today, the owners and team at Michael Kehoe made a lasting impression on me, as they shared many of the same values as we have at Schoolhouse today. Back then I had a similar feeling that I have here today; I sensed it was an honor and a big responsibility to represent the brand.
What's your favorite item in the store right now?
Just one?? The Luna family of lights are everyday beautiful, simple perfection. The blown glass shade emits a diffused glow that appears to be suspended in space. It was a joy to participate in developing this collection and obsessing over each detail to bring them to market. Also, anything sewn in-house by our talented sewing team. My current favorite is our Dot Euro Pillow.
What is this season's theme?
Every Day Beautiful. "The pause you didn't expect – when, for just a moment, you're looking at life from the outside in. As gratitude flows and worries ebb, a fresh appreciation for today and an optimism for tomorrow fill the air. These glimpses are an extraordinary gift; a chance to see every day beautiful."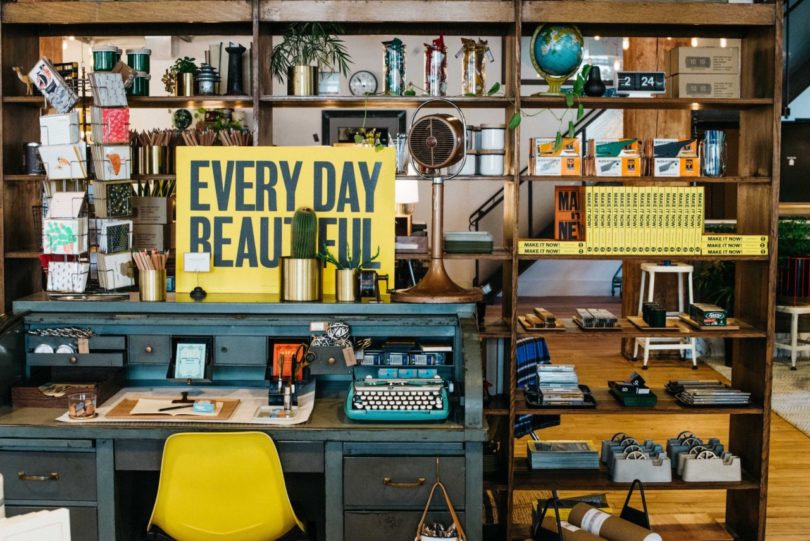 Are you carrying any new products and/or undiscovered gems you're particularly excited about?
The Beacon fixture may look simple, but don't be fooled by the clean lines and minimal design aesthetic! The Beacon is our first light with full LED integration – meaning it is an all-in-one surface mount (ceiling or wall) equipped with an integrated LED module that has the capacity to last for more than twenty years. There are no light bulbs to change; it is completely self contained. I believe it perfectly captures the intersection of thoughtful design and technical innovation – which was exactly the intent.
Also, each season we partner with a small, curated assortment of artists through the Schoolhouse Art Studio to create a collection of unique, one-of-a-kind, highly-coveted pieces. It is a dream and an honor to collaborate so intimately with such talent. We've selected artists from all over the country and close to home. My Spring 2017 Schoolhouse Art Studio favorite is the collaboration with Kat + Maouche. Their products are tangible evidence of their values, which is something we strive for with all of our own products.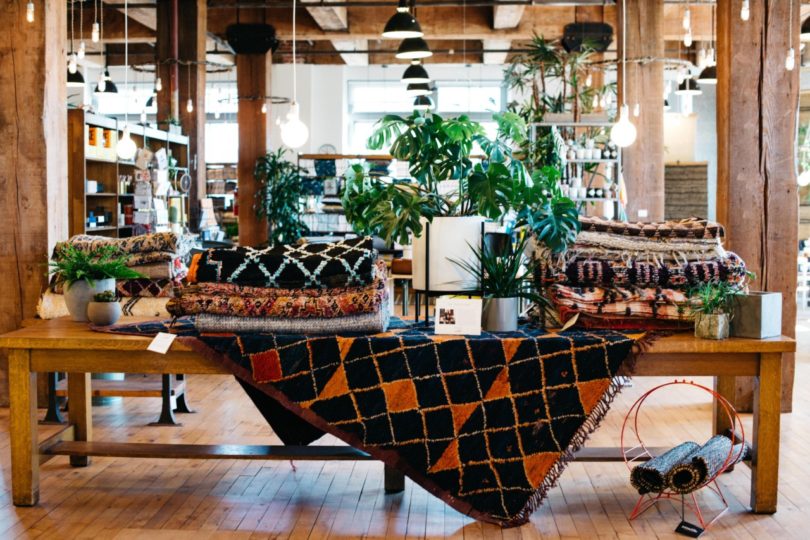 What's been a consistent best seller?
Some of my forever favorites, aka Schoolhouse signature products include: Ions, Radar sconce, Alabax, Kennedy clock, Flip clock, Edgecliff pulls, Holiday stockings (they launch each November and sell out fast), Big Picture calendar, Jack Furniture collection, "Work Hard and Be Nice to People" print from Anthony Burrill, and Collection of Burrill Images.
Does the store have its own line?
All of our lighting, all clocks, and the vast the majority of our furniture, art, bedding and hardware are exclusive to schoolhouse. Having our own product design, development and engineering teams, and factory in the same building as our store enables this possibility and certainly differentiates us in the home decor market.
Any special events/exhibits/pop ups/collaborations coming up?
While Design Week has come and gone, our pop up shop featuring Anthony Burrill's artwork is still live on our site and prominently featured in our stores.
We're also finalizing the next season of Schoolhouse Art Studio artist collaborations which will launch in September. Of course, we also love to drop in a few surprises along the way, so check back often!
Do you have anything from the store in your own home?
Of course!! So many things! Right now I'm most excited about the small chalet we just built up on Mount Hood – I'm loving how our Factory 9 fixtures and herringbone rug work together in this room.
What's next for you and your store?
We are thrilled to share that we will be opening a third location, in the East Liberty neighborhood of Pittsburgh in early 2018. This will be our first new location in more than a decade. First was Portland (2003), second was NYC (2006). We'll be sharing details on that as we get closer to opening.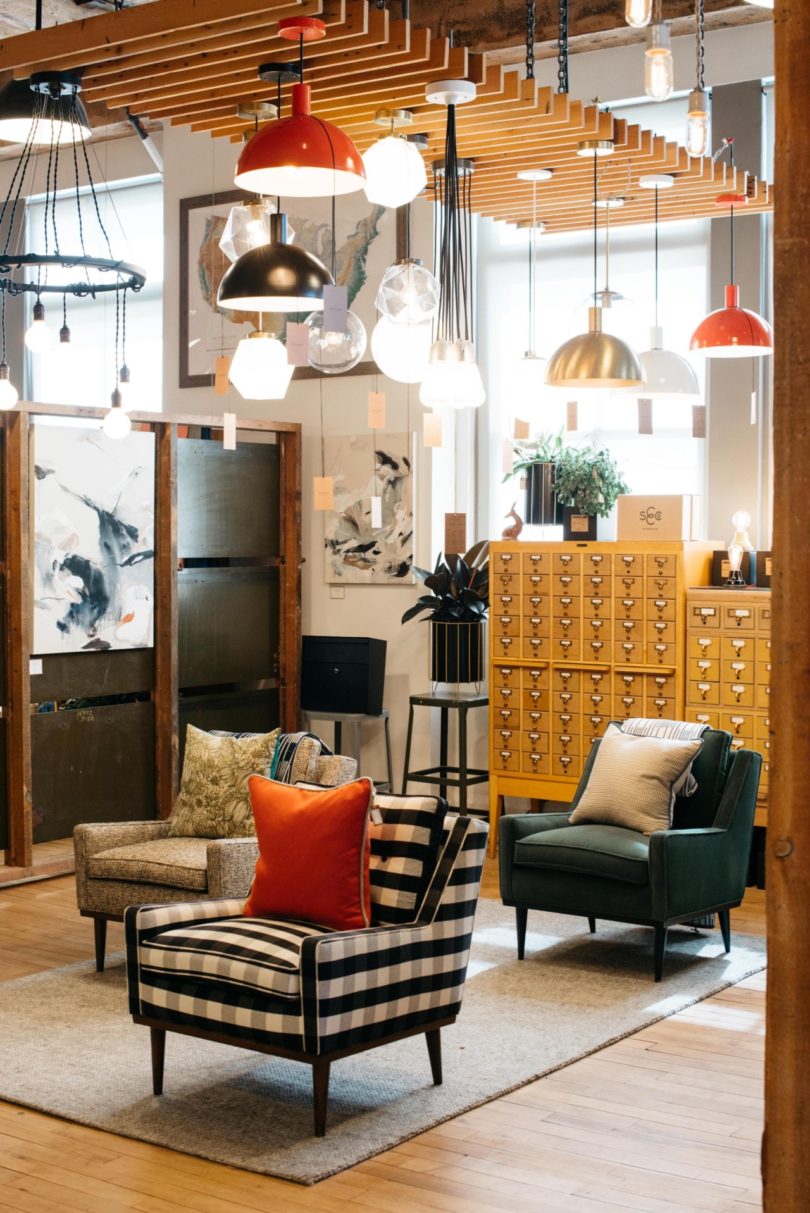 What's one lesson you've learned since opening your store?
Despite what media tells us about the demise of traditional retail due to the rise of digital dominance, Schoolhouse store results show me that with a disciplined strategy brands can sustain successful growth across all channels, including brick and mortar.
If you could give one piece of advice to someone who wants to follow a similar path to yours, what would it be?
First, I'd redirect them with encouragement to chart their own unique path instead of following one similar to mine (or anyone else's). Next, I'd advise that success requires the confidence to define and implement your own rules. I have three: work smart, be cool, and go for it. These rules continue to serve our team well, as we grow and try new things.
To visit Schoolhouse Electric, stop by 2181 NW Nicolai St, Portland, OR 97210.