San Francisco-based product and graphic design firm Shape Field Office is run by the husband-and-wife team of Karson and Mary Shadley. Shape Field contracted Nicholas Riddle, a colleague of Karson's at California College of the Arts, to design and build the Shape Field Bike.
Riddle built this lightweight porteur-style bike with a Columbus SL frame and based the geometry on the 1978 Cinelli Supercorsa, which is Karson's favorite. Being a porteur bicycle, it has a removable front rack with quarter details that can hold up to 80lbs. The bicycle features a laser-etched signage panel, a custom head badge, as well as Honjo fenders and Paul Component's brake calipers around which the frame was designed.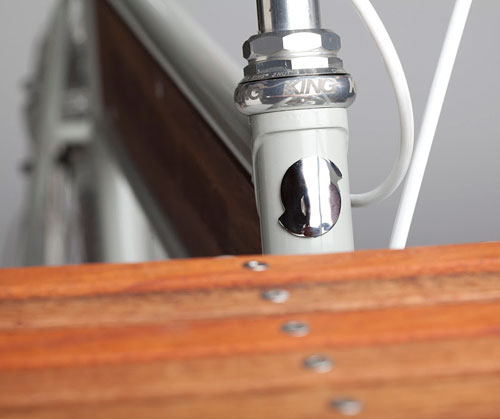 Nicholas Riddle has an engineering background and has spent years in the bicycle industry. He is also developing the Urban Mobility Initiative for California College of the Arts where the bicycle is often used in the research of modern mobility issues.
Photos by Curtis Myers.