A devastating earthquake struck Christchurch, New Zealand in 2011 damaging the city's iconic Christchurch Cathedral. Architect and 2014 Pritzker Prize winner Shigeru Ban was asked to come up with a temporary solution to help replace the landmark until a more permanent cathedral could be built. His response? The Cardboard Cathedral that's built as a simple A-frame building utilizing 98 cardboard tubes and 8 steel shipping containers.
The new church can hold up to 700 people at any given time and the structure is expected to last at least 50 years, long enough for the new cathedral to be constructed.
The tubes are coated with waterproof polyurethane and flame retardants that Ban has been developing since 1986.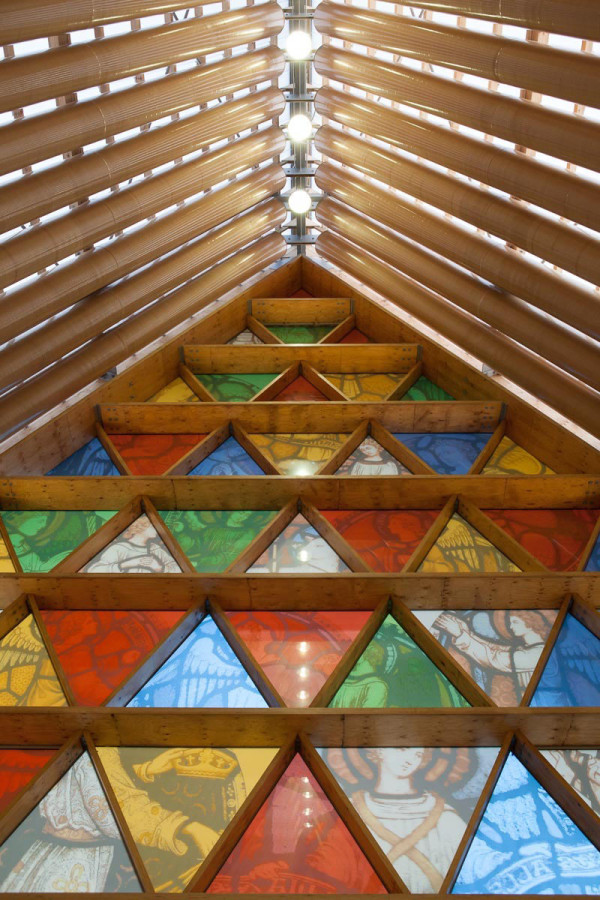 The tubes almost touch 70 feet in the air constructing the roof of the building. Light passes through the spaces in between the tubes keeping the interior bright. The tubes are covered with a semi-transparent, polycarbonate roof that allows light in while protecting the structure from the elements.
Colorful glass sits within triangular frames at one end of the cathedral, bringing in a modern version of traditional stained glass windows.
Photos by Bridgit Anderson.