We were super excited for the first year of Sight Unseen's new one-stop art and design destination, OFFSITE.
We were NOT disappointed. The Sight Unseen duo Jill Singer and Monica Khemsurov put together a huge and impressive two-story collection of new artists and designers from sculptures to ceramics to watches and, of course, furniture and home decor.
The Principals created a series of tables using painted iconic chairs as bases.
We discovered Print All Over Me, and now we want to print all over everything. PRINT ALL THE THINGS!!!!!
Grey Area created a table base and have asked various artists to design interchangeable table tops that you can also hang on the wall as art. We loved the ones from Snarkitecture (left) and Chen Chen & Kai Williams (right). You can actively play the marble game on the Snarkitecture table even when it's laying flat because the tunnel has been carved to gradually deepen.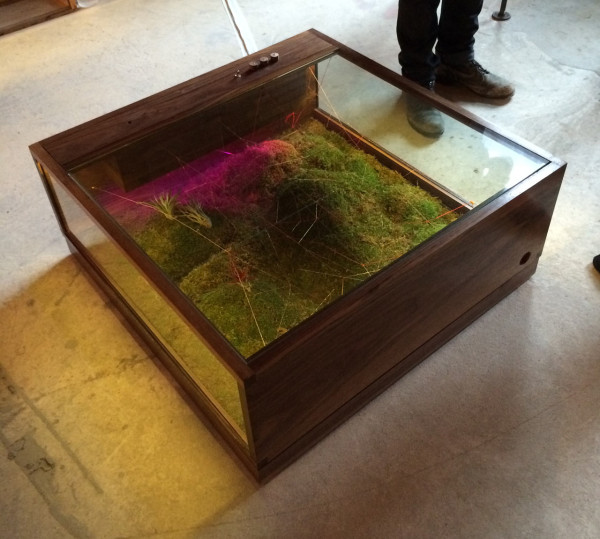 Creative wooden furniture and decorative items with plants that are like wooden terrariums by Huy Bui.
Canadian designers Knauf and Brown's leather shade lamps turn on and off through interaction.
Minimalist geometric rugs by Chorin
We were super stoked to meet Material Lust after featuring their work and having them on for Friday Five. They have some great new stuff.
AM|MA Studio has some really beautiful pieces inspired by crystallization. They also hand-create unique concrete patterns.
This particular table, also from AM|MA is made of coffee grounds… it's a coffee table, get it?
Loved this lighting from DAMM.
Loved this chair from Rosie Li, who also has the most amazing sconce with Roll & Hill that I unfortunately did not get a photo of.
Work by Pablo Alabau
Zoe Mowat showed some beautiful tables.
I was especially excited to see the new work from Ladies & Gentlemen Studio, who collaborated with glass artist John Hogan on a series of lamps and objects (below). They also developed a fun line of "thingamajigs" that move, playing with shape and balance (above). Read our recent interview with them here.
Gorgeous rugs that are hand-made in Morocco using fabric scraps from Kelly Behun.
Eric Trine was showing some new work including new chairs with cushions and some fun neon pieces, as well as curious objects.
Rocker by Mario Milana
There were also some really cool sculptural art pieces on display and for sale. The I'm Revolting ceramics shop and Chiaozza's fun Plant shop. I was very close to taking all of it home with me.