Sight Unseen OFFSITE landed in a new venue this year – the famed Grace Building, which happens to overlook Bryant Park on one side. A new year and a new locale brought about some of the best new designs we saw during NYCxDESIGN this year from brand-new talent, as well as more established brands. Take a look at the first part of our breakdown of Sight Unseen OFFSITE 2016.
Leong Leong created TOPO for Ford which was an immersive sound bath installation that offered a calm place to relax during the chaos of NYCxDesign. The lounge space reflects the experience one might have when driving through landscapes in a Ford Edge.
Land of Nod worked with a series of designers, like Dusen Dusen and Eric Trine, to reimagine regular kids' designs in giant scale. The oversized pieces remind us adults what it is like to be a kid again.
Fernando Mastrangelo debuted MMATERIAL, a new collection of cast pieces in hand dyed ombre cement.
Also from Mastrangelo, this mirror has pink colored sand attached to its surface.
Elyse Graham always manages to blow our minds with new work at every show she presents at. Her first foray into furniture is an incredible table where she combines a brass tabletop with one-of-a-kind legs that resemble her layered geodes.
BZIPPY & CO, which is Bari Ziperstein's line of goods, are often made of terra cotta with rope threaded through the vessels.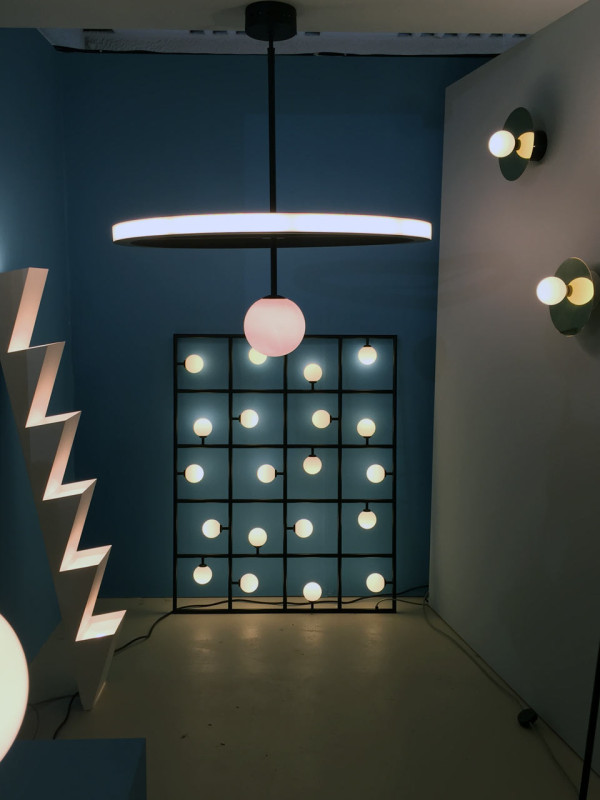 Areti, which is the work of sisters Gwendolyn and Guillane Kerschbaumer, showed some really cool and dynamic lighting pieces.
Pops of color and clean lines make up the work that Ben Barber Studio had on display.
Alex Proba and CHIAOZZA teamed up to create this bold, eye-catching mobile that looked liked suspended pieces of colorful sculptures floating in the air.
Furnishing Utopia brings 12 international designers to participate in a week-long workshop that's done in collaboration with the Hancock Shaker Village and the Mt. Lebanon Shaker Museum where the designers have access to the archives of Shaker objects and then get to produce designs that follow the Shaker aesthetic but in modern forms for contemporary life.
Uprise Art curated a collection of one-of-a-kind art objects made of ceramic, porcelain, and stoneware, alongside paintings by Chad Kouri.
Bjørn van den Berg and Bower collaborated on a collection of pieces for Norway x New York, a partnership that brought together American studios with Norwegian ones. Their finished works were graphic, functional pieces made from light and dark woods.