Crosby Studios launched its second collection of minimalist, architectural-inspired furniture and objects, including a chair, two library bookcases, a light fixture, and a rug.
Every single year Elyse Graham manages to launch a collection that you just can't seem to take your eyes off of and this year was no exception. She presented an array of Resin Vessels that are composed of pigmented resin that's poured layer by layer into a mold and then carved and sanded to reveal geometric and colorful patterns.
Fernando Mastrangelo featured a mesmerizing collection called the Ridge Series, which included this beautiful wall piece made with 1,452 pieces of cut glass!
Calico Wallpaper displayed their Aura wallpaper in a bold blue on a series of panels and partnered with The Principals, who showed an interactive chandelier that emitted different sounds and colors as you touched it.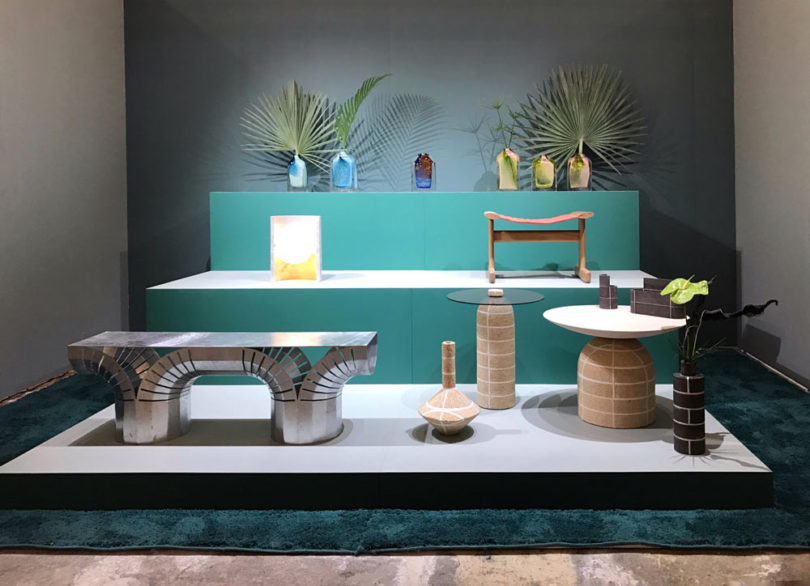 Sight Unseen created an exchange between five American studios and five Norwegian ones in a project called Norway x New York. The studios spent six months developing objects that could be made in America and be sold in the future. This year's partnership included Moving Mountains + Runa Klock, Vonnegut/Kraft + Kneip, Jamie Wolfond + Sigve Knutson, Visibility + Noidoi, and Slash Objects + Thomas Jenkins and it was sponsored by the Royal Norwegian Consulate General in New York.
Erich Ginder Studio developed a screen or partition in a die-cut ticking fabric which gives it geometric dimensions, much like some of their lighting pieces.
We loved the linear pattern of this rug from Grain where it looked as if various shapes were patchworked together.
Atelier Areti featured an array of simple, sculptural lights, some hanging from the ceiling and some from the walls, with golden shapes and exposed bulbs.
Part of OFFSITE Selects, a section that presented works from 22 international designers, Kim Markel exhibited two vessels that were made using pieces of plastic from her scrap bin.
We couldn't help but love the trio of Bob Lamps by Talbot & Yoon, which are made with recycled glass aggregates within hand cast concrete.
Designers Jonathan Gonzalez, of Office GA, and Lucila Garcia De Onrubia, aka Deon Rubi, had joined forces in the past and came back together to present their third collection at OFFSITE. These minimalist, wall leaning forms can be used to hang clothes or coats.
Atelier de Troupe brought a brand-new collection of lighting and furniture after first launching at Euroluce 2017 in Milan.
Eny Lee Parker presented a cohesive collection of furniture and objects using materials like terra-cotta, glass, and velvet. Her booth was made possible by Levi's Made and Crafted.
And lastly, BZippy & Co. always displays the best ceramic and terra-cotta pots and vases – all of which we want to own!