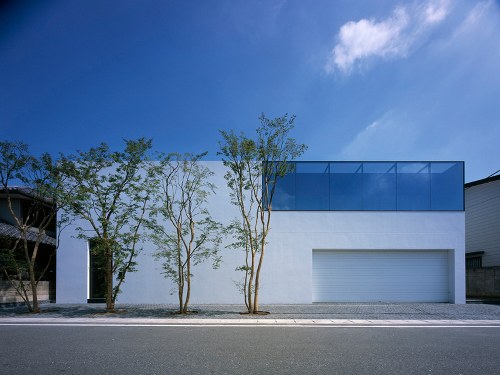 It's baffling how many ways an architect can strip away the non-essentials and still create something beautiful. The people over at Baqueratta have recently completed TH House, a single-family abode in the Tochigi Prefecture of Japan with just the right amount of minimalism. From the look of it, nature definitely played a key part in how the space was planned. White concrete walls, large windows, and lots of light combine to make this place look like a haven to live in.
The most interesting aspect about TH House is the openness of its interiors to the various courtyards. The courtyards produce a seemingly more simplistic feel to the already bare minimal home. In addition, the black steel frames around the windows that overlook the courtyards add a peculiar contrast and accentuate the visual importance of the outside scenery. The walls are made of reinforced concrete treated in white, which amplifies the effects of natural day light.
The lighting at night — reflecting against the closed-off walls within the courtyard and the glass — produces a serene ambiance that looks like it can heal any kind of stress and tension. When it comes to details, I love how the living room is covered with a cold limestone floor and then transitioned into a soft carpet inside the bedroom.
Photos by Katsuhisa Kida.

Design From Around The Web