Built along a grassy hillside, the Skyward House blends beautifully into the woodsy environment while providing protection from the busy street below. The living areas of the residence were built higher in the Kazuhiko Kishimoto-designed home to help provide comfort to the homeowner as this was intended to be her final home.
The house is equally open and closed, providing plenty of exposure to enjoy the view while also remaining private per the client's wishes.
The exterior is clad in horizontal wood planks that continue on in the interior's outermost rooms.
The square plan is both compact and well thought out, making the most of each space.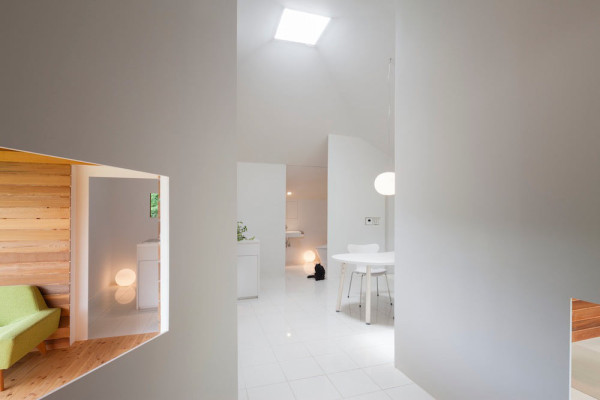 The interior space is all white with light coming in through the ceiling and the openings to the outer rooms. The ceiling is also higher, drawing the eyes towards the sky.
This outer room almost feels like it's outdoors with the warm wood panels and wide expanses of glass.
Photos by Hiroshi Ueda.