Luciano Lerner Basso, of Basso Engenharia, designed House 4.16.3, a project that sits on a sloped hillside in the countryside of Rio Grande do Sul. The Erechim, Brazil residence is made up of two volumes, one of which is cantilevered, hovering above concrete columns. The design was driven by the desire to limit how much the land had to be altered, which led to the longer volume being elevated above ground.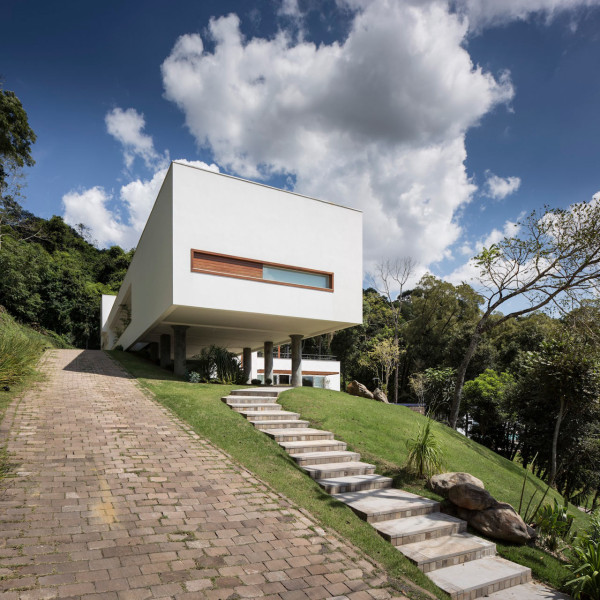 The two volumes form a "T" shape, a reference to the Prairie Houses by Frank Lloyd Wright. Where the two parts meet is the connection point with a double-height ceiling to unite the home together.
The top level houses the private quarters while the lower level is the social section with access to the patio and pool area.
There are two levels of terraces, one just off the living room/party room right by the pool, and one above that room that adjacent to the intimate dining and living room.
The house utilizes a rain water reuse system, natural ventilation and lighting, solar energy heating, double exterior walls with air chambers, and double glazed window frames for energy efficiency.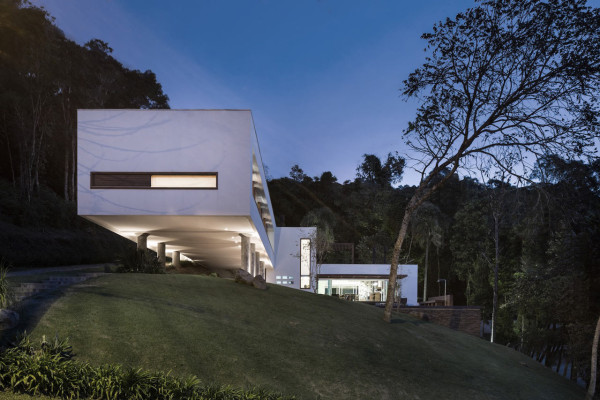 Photos by Marcelo Donadussi.