Beriot, Bernardini Arquitectos transformed a tiny, 28-square-meter (300 sqft) office into a private apartment located in the historic center of Duque de Alba, Madrid. The design challenge was to create a comfortable home, despite its size, that includes all the comforts of everyday living without having to incorporate things like sofa beds.
Thanks to the tall ceilings, a system of levels were incorporated to house all of the necessary functions, like a sleeping area over the bathroom and kitchen. A typical mezzanine level wouldn't fit but the split levels work perfectly crafting just enough space for each use.
A dressing space sits above a storage unit that includes a sliding cabinet underneath.
The design adds and extra 8.5 square meters (91 square feet) of space to the small dwelling, helping to make the apartment more functional.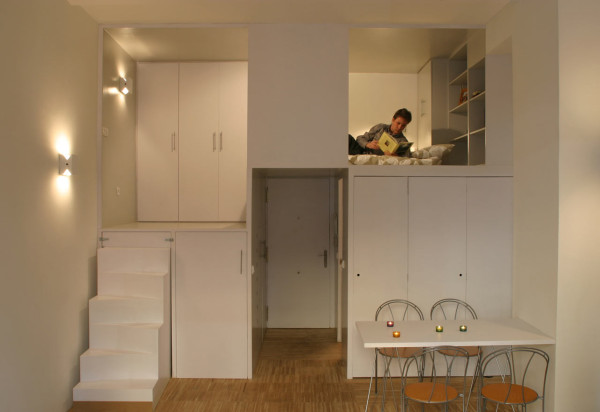 The sleeping alcove doesn't have to be full-height since the residents will be laying down. There's still plenty of room to sit up though.
What looks like your average closest is actually a kitchen.
While small in size, the kitchen has everything you'd need to get by.
The stairs pull out to reveal a ton of extra storage, making the most of every square inch of space.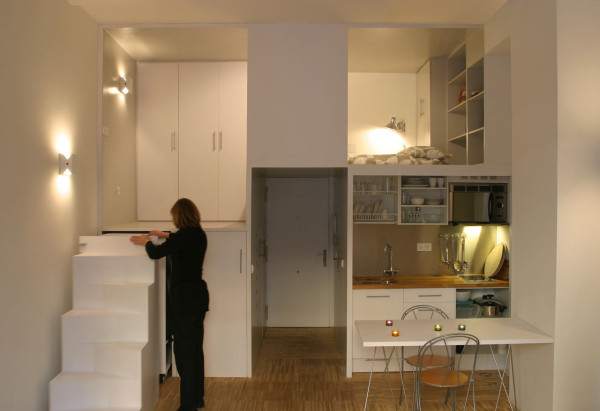 The design is made possible with a single element that was conceived as a piece of furniture that was then installed.
Photos by Yen Chen.