Despite their cool nature, window air conditioners have never been an inspirational category for industrial design. For small space dwellers, renters, and those living in older homes without HVAC systems, window air conditioners are functional, yet distracting eyesores. GE and Quirky saw an opportunity there, not to just refresh, but redefine the humble window AC into an "Internet of Things" network/app connected appliance with a market-changing design.
From small observations can arise big ideas. The Quirky + GE Aros Smart Window Air Conditioner was born out of a simple observation by inventor Garthen Leslie while driving along his neighborhood. He had an epiphany about the unnecessary energy drain related to keeping homes cool. With years of experience working for the Department of Energy, Leslie pitched the armchair inventors platform Quirky about his dream of a smarter way to keep homes cool who, in turn, joined forces to collaborate with home appliance giant GE to turn the idea into a reality. Thus began the education of a dumb appliance into one with smarter internet-savvy credentials.
At first glance the Aros' specs are pretty straight forward:
• Cools 350 sq. ft. (~17'x20′)
• Fits double-hung windows 24.5″ to 40.5″ W x 13.5″ H
• Three cooling modes + three fan speeds
• 8000 BTU, 115 volt, 6.3 amps
Where the Aros first sets itself apart from its competition is its perforated audio speaker-style front face with a flat touch-capacitive sensors LED display, and retractable fabric wings for fitting across different sized windows. One wouldn't be half-surprised if the Aros revealed the capability to stream wireless audio via Airplay (it doesn't), such is its atypical and refreshingly clean aesthetic.
The Aros connects via Wi-Fi, giving users the ability to monitor, schedule, and control the air conditioner unit using a the compatible smartphone Wink app. The app also tracks and reports monthly energy expenditure.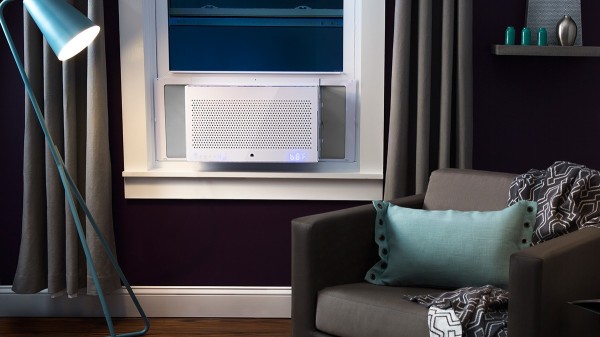 Taking advantage of smartphone GPS chips, the Aros can be set up to turn off when owners leave home and turn back on as they return, conceivably reducing monthly energy bills considerably.
The Quirky + GE Aros Smart Window Air Conditioner is available for pre-order for $300, shipping May 17, 2014 (the Aros will later be available this summer at Target, Wal-Mart, Home Depot, Best Buy, and P.C. Richard & Son brick and mortar locations).