Located on Long Island, this Southampton beach house by Alexander Gorlin Architects is quite the vacation home for a family of four.
With 12,000 square feet, the home offers views of both the bay and ocean. I think one of my favorite features of the home is the roof a terrace, which has unmatched views of the ocean along with a seating area and sculptural elements. I wouldn't mind watching the sun rise and set up there every day…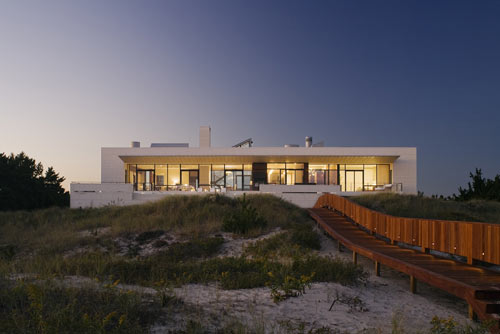 From the architects:
This striking, modern summerhouse is set on a narrow spit of land between the ocean and the bay. While simple in form, the house is rich in texture, color and detail, with African teak offsetting pale limestone.

At the entrance, the second floor cantilevers outward from the principal mass of the building in a bold formal gesture, creating a sheltered patio adjacent the main entry. From here, an open staircase rises through a two-story glass atrium to the main level.

Inside, the house is organized around a large, open living area.  A central fireplace subtly partitions the space, creating an informal dining room to one side and a sitting area to the other. A light monitor in the ceiling above adds volume to the space and washes the room in a diffuse light.

The living room opens onto a terraced patio and pool beyond. Above, a great wing-like canopy extends from the building, shading the house. In marked contrast to the substantial mass of the limestone building, this finely tapered form floats above the patio.  Clad in a soft gray metal, it seems almost to disappear against a pale sky. The pool looks out toward the ocean while a wooden boardwalk traces the gentle rise of the sand dunes, leading to a private beach below.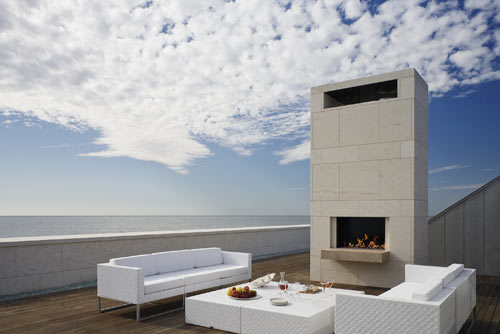 Photos by Michael Moran.

Design From Around The Web