There's nothing that's quite as analog and nostalgic as finding a book you love and spending an afternoon thumbing through it. Graphic designers Jesse Reed and Hamish Smyth of Standards Manual know this is true for a lot of people. Their previous Kickstarters to bring back two classic manuals exceeded their expectations. Their reissue of the 1970 New York City Transit Authority Graphics Standards Manual drew in $803,000 in pledges (with a goal of $108,000) and their reissue of the 1974 NASA Graphics Standards Manual raised $942,000 dollars in pledges (just about $50,000 shy of a $1M; their goal was $158,000). There's an obvious demand for classic design books like the two Jesse and Hamish reissued so when it came time for them to open their design office Order, they decided to also build out a specialized graphic design bookstore in the front, the first of its kind in New York.
In addition to carrying their reissued manuals, the Standards Manual bookstore also carries a thoughtfully curated selection of graphic design books from a variety of renowned publishers, including: Chronicle Books, Gary Hustwit, Harper Collins, Hartley and Marks, Hachette, Laurence King, Niggli, Phaidon, Prestel, Unit Editions, and Yale University Press. Today for our Design Store(y) series, we chat with both Jesse and Hamish on what it's like to venture into the world of retail especially if you've never worked in it before and advice to take away (especially for students!).
Why did you pick this neighborhood?
Picking the city was easy—we both live in New York. Picking the neighborhood was a lot harder. We both had ideas about where we would like to be, and started looking in those areas. We saw some spaces in Manhattan's LES and Chinatown, and while they were good locations, they were way too small for what we needed. Brooklyn gave our budget a lot more bang-for-buck and we started seeing looking at places in North Brooklyn.
One of our challenges was that we needed space for not only the bookstore, Standards Manual but for our new design office, Order.
The property we ended up leasing fills all of our needs. We have about 250/sq ft in the front as the Standards Manual bookstore, and the remaining 750/sq ft is Order. We also have a private 1000/sq ft courtyard, and a basement for storage.
We worked with architectural designer Miran Jang to design some custom elements in the space like a glass dividing wall between the spaces, but in the end we kept it really simple. We installed Vitsoe 606 shelving which gives us versatile shelving for both the store and office.
We're really happy with how the space turned out and we love coming to work here.
Where did you get the name for the store?
Standards Manual is the name of our publishing imprint. It was a pretty natural step to name the store the same. We sell our books, of course, but we also stock over 40 titles from other publishers. The one catch is that they are ALL graphic design books! We believe we are the only dedicated graphic design bookstore in NYC.
Has it changed much since it opened? How?
We've only been open for a month, but so far nothing major has changed. We do have about twice as many titles now, though. We plan on rotating new titles in all the time to keep it fresh.
What's one of the challenges you have with the business?
Probably like many stores, the lease/build-out and opening cost much more than we planned for.
What other stores have you worked in before opening this one?
Neither of us have worked in retail before. However, we both started businesses selling stuff out of high-school (Jesse skateboard related goods, Hamish graphic t-shirts), so we both have experience in customer service and sales.
Hamish's first job was at McDonalds (they teach you all you need to know about any business!) and he also worked at a cafe (among other jobs). Jesse's also bussed tables at an Italian restaurant.
Our coordinator Jessica Adams had a background working in retail for Aesop, so it's been great to have her insights in running a shop.
What's your favorite item in the store right now?
We're bias so we have to say our Standards Manual books! NASA is our favorite. We also give away free matchbooks, which was just an excuse for us to design matchbooks—it's the small things.
What is this season's theme/inspiration/story?
Are we supposed to have a theme!? We're going to keep it simple: The best graphic design books. That's it.
Are you carrying any new products and/or undiscovered gems you're particularly excited about?
We carry Unit Editions titles out of the UK. They are hard to find in the US, and they make such great books. Always a treat to get new Unit titles.
We just got their fantastic new book for Pentagram partner Paula Scher. The hardcover is sold out, but we have a few softcovers left.
We'll be stocking every new title they release.
What's been a consistent best seller?
You can probably tell from above, but Paula's book and all Unit Edition titles are selling really well. We also sell a good amount of our own titles. Michael Bierut's How To is also a top seller.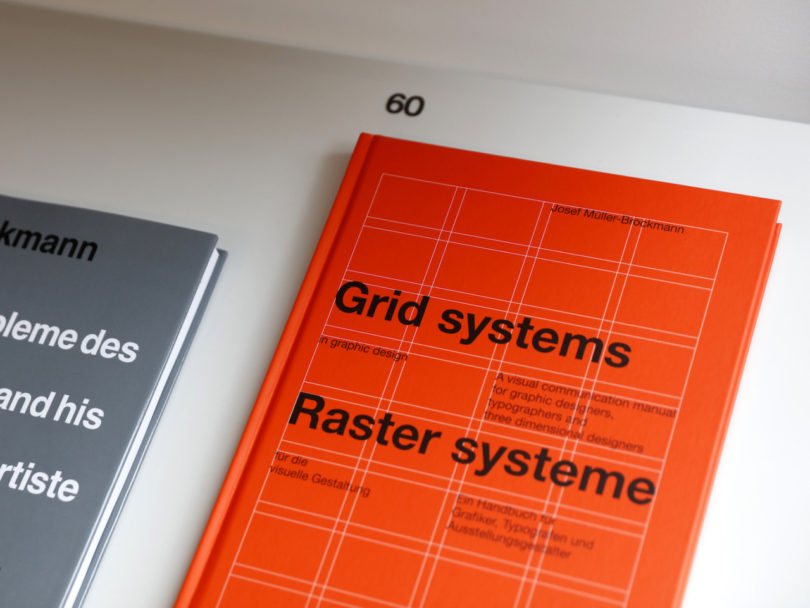 Any special events/exhibits/pop ups/collaborations coming up?
Nothing planned yet (catching our breath after the opening) but we would like to host events and lectures in the future. We're casually starting to speak with a few incredible designers (can't say names yet) for book launches at our space. More stuff like that will hopefully be happening in the future.
Do you have anything from the store in your own home?
Yes, we both have all of our own books, plus a few from other publishers. We've actually brought most of our books into the office to fill our shelves! We only carry books we love.
What's next for you and your store?
We're planning on upping our rate of publishing for Standards Manual. Lots of new books planned over he next few years! And again, hosting events in the space, speaking with students, and generally using the store as a resource for young (and established!) designers.
What's one lesson you've learned since opening your store?
This is not really a lesson learnt, but we've been pleasantly surprised by the customer coming through who want to have a chat about books and design. We've already met interesting people from all over the world who want to nerd out about design books. It's awesome.
Also, never put valuables on the basement floor.
If you could give one piece of advice to someone who wants to follow a similar path to yours, what would it be?
Publishing your own books is not as hard as it might seem. Just focus on quality of content and materials. Crowdfunding is a great way to get started (that's what we did). Opening a shop is twice as hard as it might seem, though!
In terms of design, this sounds corny and cliche, but you have to absolutely want to do it. You don't do good work if you're not invested, and every single project that comes in our door becomes a personal investment. And if you're a student, stay friends with everyone in your class—eventually they'll all be in higher positions to hire you (in and out of the design profession).
Visit the Standards Manual bookstore at 212 Franklin Street, Brooklyn, New York from 10-6pm, Monday through Saturday.