If you've ever had a friend or loved one in the hospital for any length of time, you know just how awful the accommodations are for guests – either they're uncomfortable straight chairs that are impossible to get comfortable in or possibly a stiff recliner that isn't much better. Steelcase Health is working to change that with new and innovative designs like Surround, a sofa system designed for visiting guests. The collection is made to support family members while they're staying in a patient's room. The design works as a sofa or sleep surface with helpful features, like an integrated sliding table for working or eating, an ambient light for reading, a high recline arm to lean back on, layered storage for personal items, a tray for photos or get well cards, and a coat hook – all thoughtful details aimed at making things comfortable during a difficult time. For this month's Deconstruction, Director of Design for Steelcase Health, Ryan Ramos, shares the design process and how it came about.
The world constantly drops clues that can lead to new white spaces…especially in the space of health.
We find these clues…
…by observing how people interact…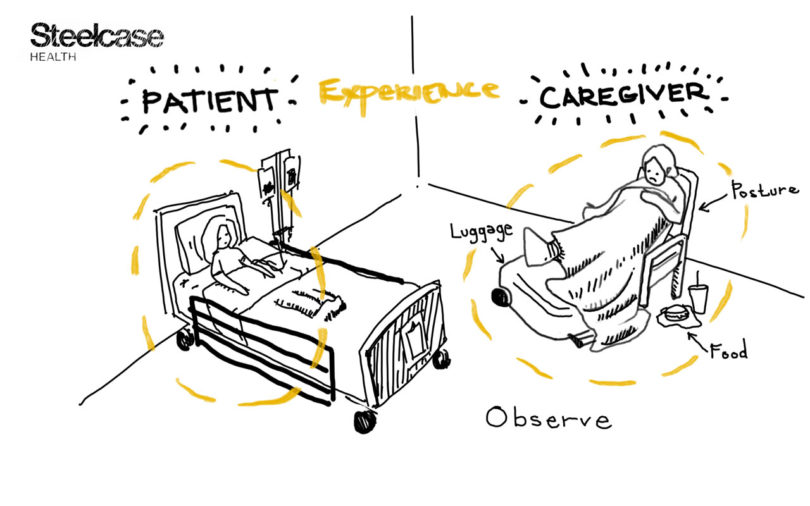 …and experience space and objects…
We look to understand, empathize and process the good and bad…
…finding points of pain and points of joy throughout the journey…
We synthesize these insights and develop ideas quickly…
Poignantly designing for opportunities that focus on solving real problems…
By sketching…
…through CAD…
…and prototyping, allowing us to fail fast and early and learn from those mistakes…
…persevering until a spark catches and a point of view is fostered…
…honing a solution that improves the human experience tangibly…
Materializing through the hard work and passion that make up the team at Steelcase.
To deliver on a holistic experience for our customers and their own.