Whether you're visiting it in person or just browsing online, Spartan is one of those perfectly curated boutique shops that makes you spend hours perusing its collection of objects designed by independent designers and makers (trust us, we've been there, done that). Founded by Currie Person, Spartan has everything you could want for your home, from ceramics and home decor to bags and apothecary goods.
It's been more than a decade since Currie has opened her shop, which she opened in Austin and moved to Portland two years ago. Since then, Spartan has expanded into a studio that sources, styles, and strategizes for interior designers, hotels, restaurants, commercial and residential spaces. We're thankful to have been able to catch up with Currie to talk more about how the business has changed since she's started the shop and, of course, some of the special pieces currently in Spartan. Read on…
Why did you pick this city?
My husband and I fell in love with Portland on a road trip and moved here six years ago. We waited for several years before we relocated the shop from Austin to Portland because we wanted to acquire a deep understanding of the community we were coming into. We took our time hunting for a location with as much space and natural light as we could afford (critical for happiness in the rainy months). Finally, two summers ago, we stumbled upon a spacious corner showroom built in the early 1900's with two walls of windows, 15 foot ceilings and views of the west hills. I couldn't imagine a better space to work everyday.
Where did you get the name for the store?
The name was derived from the idea of Spartan minimalism, not necessarily aesthetic minimalism, but the ideal of owning fewer things that are thoughtfully chosen, beautifully designed and that reflect the hand and story of the maker.
Has it changed much since it opened? How?
I opened the shop when I was 29 and now I'm 40. The curation has changed quite a bit since the beginning and reflects our ever-maturing and evolving enthusiasm for artistry and craftsmanship, as well as our travels and experiences. That said, we believe in investing in long term relationships, both with the designers we represent and with our clients.
What's one of the challenges you have with the business?
I feel guilty for not keeping up with the social media/advertising as much as I should. I honestly would prefer to spend my time talking with clients in the shop or on studio visits with artists, rather than endlessly strategizing digital content. I'm profoundly grateful for the community of loyal customers all over the world that has found us through social media, but it does feel like an insatiable beast at times.
What other stores have you worked in before opening this one?
None! I worked in film production for the first ten years of my professional life. I fumbled my way through the first few years of owning the shop with some sound advice from friends. I had no idea what I was doing but it was really fun. I'm definitely a trial by fire type of human.
What's your favorite item in the store right now?
I have been quite taken with BDB's newest ceramic pieces. I keep promising that I am going to buy one for myself but they disappear as soon as we get them into the shop. The modular stacking sculpture is a particular favorite.
What is this season's theme/inspiration/story?
We don't necessarily work towards particular themes or stories each season. However it is often quite apparent where we have been traveling by the visual influence or new artists we are representing.
Are you carrying any new products and/or undiscovered gems you're particularly excited about?
Over the last year or two we have made a shift towards representing more one-of-a-kind pieces – ceramics from Mondays, ANK, Clam Lab, Mother of God and BDB as well as pillows by Jess Fuery, paintings by Amy Bernstein and Jen Garrido. The ephemerality has been fascinating. The feel of the shop changes noticeably with each new arrival and purchase, and customers get excited anticipating our art openings and new shipments of pieces- they often reach out asking for previews.
What's been a consistent best seller?
Eric Bonnin dining plates have been a favorite for years. They are so handsome, a nice balance between sleek and earthy. Fferrone's champagne glasses are the go-to special gift item of the moment.
Does the store have its own line? If not, any plans for it in the future?
We don't have have an in house line but we enjoy collaborating with designers to create custom items for hospitality clients or exclusive/limited edition items for our own shop.
Any special events/exhibits/pop ups/collaborations coming up?
We are designer-in-residence for the incredible Antica Terra winery this fall. We are working with them to shape their tasting room experience and co-hosting some events later in the year.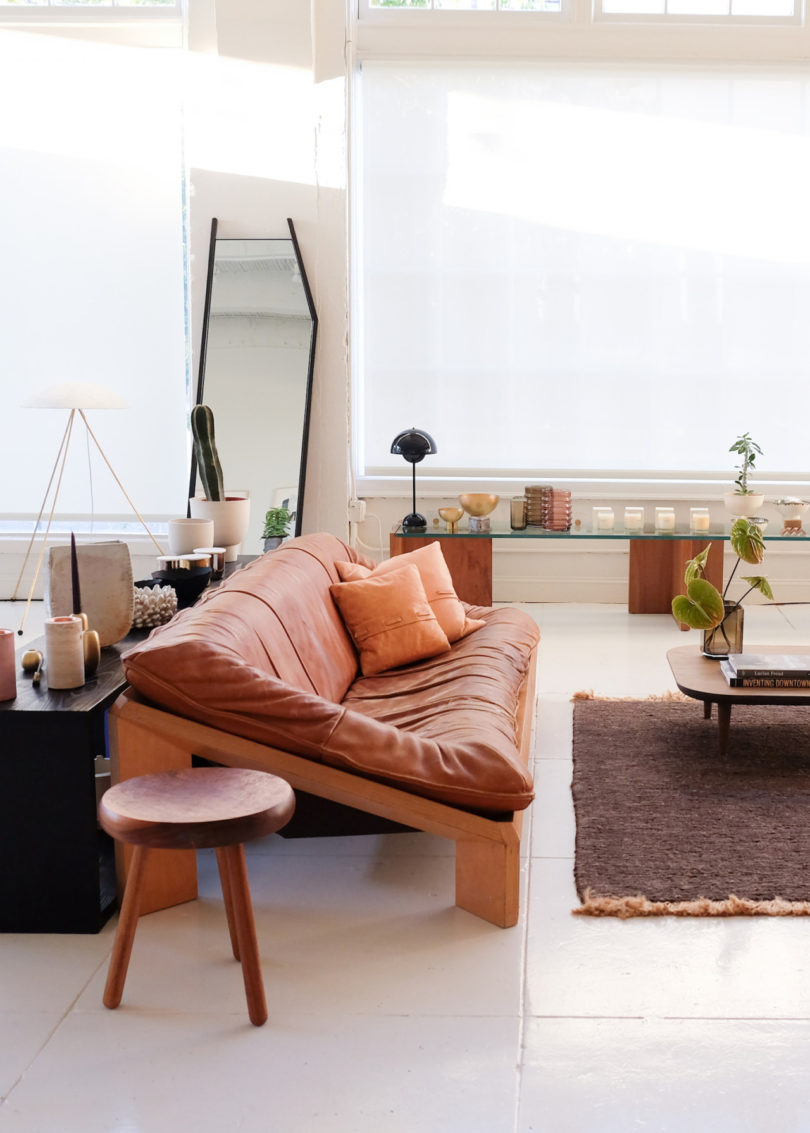 Do you have anything from the store in your own home?
I have a lot of pieces that have arrived to us slightly cracked or chipped in transport and are not fit to sell – an army of beautiful, slightly broken soldiers. We recently moved into a new house and our first acquisitions were De Jong & Co dibbet stools for in front of the fireplace and a big ceramic planter by Mother of God.
What's next for you and your store?
A new-ish arm of our business that we have been enjoying is working with interior designers, hotels and restaurants on placing custom pieces and/or curating their retail selections.
What's one lesson you've learned since opening your store?
Community is everything. The people around you will raise you up emotionally and financially when times are hard. Be good to your customers and the businesses around you and they will do the same in return.
If you could give one piece of advice to someone who wants to follow a similar path to yours, what would it be?
Running a small business is immensely easier and more enjoyable with a strong and loyal team around you. Our business has always felt like a small family. Make a signifiant investment in your people personally and professionally and they will have your back and keep you sane.
Visit Spartan at 1210 SE Grand Ave, Portland, OR 97214!