Located in Kaohsiung city, Taiwan, The Family Playground is a new project completed by House Design studio. The firm renovated the interior of this 122-square-meter (1313 square feet) house to put the kitchen and dining room in the center of the living area, redefining the traditional Taiwanese kitchen.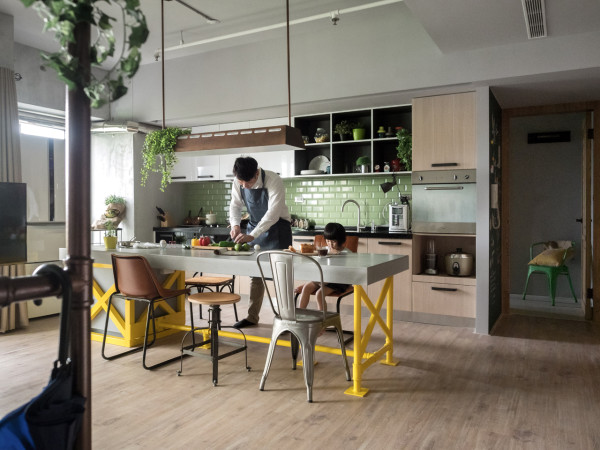 A massive island lets the homeowner cook for his family while they gather around it. The gray island sits atop a bright yellow base adding a punch of color to the fairly neutral space. A collection of different types of industrial chairs surround the island for an eclectic feel.
Hidden behind the folding wood doors is not only a bright turquoise wall, but an office.
To help divide the space, they used turned plumbing pipes into a really cool screen that can hold stuff. It even has a mirror you can check yourself out in before you head out. There's also a padded seat to sit on so you can easily get your shoes on and off.
A large glass cabinet in the hallway is used to hold their favorite objects but it also lets light pass through to the hall.
In one of the bedrooms, they used vertical wooden slats on part of the walls and ceiling around the bed, creating a cozy, but stylish, cabin feel.
I love how they laid the tile in the bathroom!
Photos by Hey! Cheese.