Every other week we're inviting one of the Design Milk team to share five personal favorites – an opportunity for each of us to reveal the sort of designs we use and appreciate in our own lives from a more personal perspective. Technology Editor Gregory Han returns this week for our Take 5 series…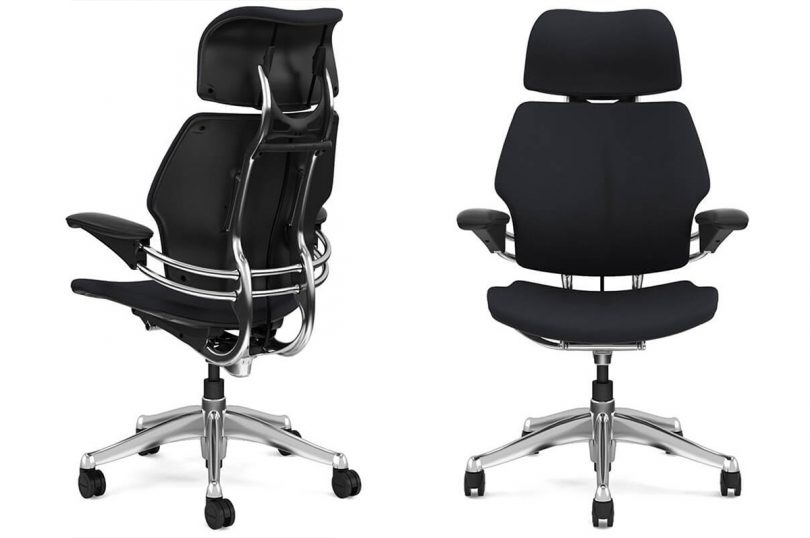 1. Humanscale Freedom Headrest Desk Chair
You'll find numerous buyer's guides crowning this office chair or that office chair as "the best". The truth is there's no one-size-fits-all design out there. The endless combination of body shapes and sizes out there, alongside all the idiosyncrasies of how each of us sit throughout the day complicates the match game. That said, after a decade with the Steelcase Leap (both versions 1 and 2), I've fallen in love with the Humanscale Freedom for a variety of reasons: a responsive padded back that automatically reclines with prescient accuracy, synchronous armrests make adjusting their height super simple/quick (I only wish the standard arms were a tad more padded), and a quasi-Matrix, chair-as-extension-of-spine silhouette. The real surprise is the seat cushion seems to be getting more comfortable over time, acclimating to my weight and hindquarter shape to fit like a glove. Highly recommend testing the Freedom out if your preference leans toward a padded, non-mesh back with padded headrest.
2. Samsung Galaxy Buds Live
They're officially called Buds, but everyone calls them Beans for obvious reasons. Even if you discount my affinity for legumes, I'd say Samsung really stuck the landing when it comes to the fit and audio quality delivered by these uniquely-shaped earbuds. What I appreciate most is they securely stay in place where other models tend to fall out during normal everyday activity (and subjectively, they look better too, especially in an almost golden bronze finish that perfectly complements the newest Galaxy Note20 Ultra, my new daily device). I regularly work with active noise cancellation on during the day and these beany buds negate distractions down to a distant drone; they're also surprisingly expressive on the low end of the audio spectrum, making them stalwart companions while working out or drifting off to sleep. A truly pocketable sized charging case is an additional perk, with a metallic finish that looks great. My only gripe is the glossy finish of these earbuds can make pulling them out of the case or ears sometimes a challenge…but that's the price I'm fine with paying for the secure fit.
3. The Great Indoors by Emily Anthes
"The notion that architecture can help us live forever is clearly science fiction. But the promise of improving our health and extending our life spans, even just a little, without ever leaving the house? Well, I found that idea irresistible." Science journalist and author Emily Anthes' 290 page book is one timely read for 2020, arriving at a moment when we're all spending time at home more than ever, while increasingly assessing how to create healthier spaces. Anthes approaches the realm of architecture from the perspective of an indoor ecologist, spotlighting numerous details architects and the eventual inhabitants of their designs often overlook that is only revealed over time or duress; it's every bit as much about how we live as it is about where we live. I found this book rebooted my perspective of the home with a more holistic and inclusive understanding of the microcosm of factors and influences, both seen and unseen, residing indoors.
4. Powerblock USA Elite Adjustable Dumbbells
This blocky design has been around for ages, but it's only recently I've had the opportunity to borrow a set to demo, thanks to a friend who purchased a pair to in lieu of the gym. I've been diligently lifting for the last two weeks using the base configuration of these rectilinear-shaped adjustable dumbbells, and it's been great to have access to the equivalent of 16 pairs of dumbbells for a total of 825 lbs. of weights. As someone who lives in a smaller older home, I really appreciate the space-saving versatility of these weights with the physical dimensions of two small shoeboxes. A simple slide-in and color-coded weight selection system allows for incremental adjustments of weights between 5-50 lbs. and I got used to the unusual shape very quickly (bonus: they're also fantastic for push-ups). Like most free weights, these are sold out everywhere right now, but I've placed a bid online so I can turn these loaners into a more permanent part of my life.
5. Poketo X Takenaka Limited-Edition Pink + Red Bento Box
My wife and I are generally pressed for time during our lunch hour, so we've begun preparing our meals in advance. We've been using recycled plastic takeout containers, but have aspirations to upgrade to a pair of these airtight bento boxes designed by our friends at Poketo. I admit I like them mostly for their graphical appeal, but practically speaking, I've always loved eating from a bento box. These are great as lunch containers because they're designed to keep hot food warm and cold food cool, with two tiers to mix and match the day's menu. And we can each pick our own colors so we don't mix up our preferences.