Take 5: Art as Shields, Flowers in Fashion, Scalloped Glasses + More
Every other week we're inviting one of the Design Milk team to share five personal favorites – an opportunity for each of us to reveal the sort of designs we use and appreciate in our own lives from a more personal perspective. Lifestyle Editor Vy Yang returns this week for our Take 5 series.
Take 5: Art as Shields, Flowers in Fashion, Scalloped Glasses + More
1/6 Photos
2/6 Photos
3/6 Photos
4/6 Photos
5/6 Photos
6/6 Photos
1. I recently came across artist Mimi Jung and am so drawn to her latest Shield series. Upon first glance and before learning more about the intent behind this series' creation, I loved how her textile works resemble calm waves crashing onto the shore. The context behind the work, however, is much more fascinating. It's about the "dimensions of self-preservation" and how a shield can be both a physical object and a metaphorical one.
2. I'm currently on the hunt to add more beautiful crystal-like objects in my home. I scoured eBay and found a vintage green ashtray which now acts as a catchall on my console. I found an inexpensive sun-catcher on Amazon which I'm planning to hang by my kitchen window to cast delightful rainbows into that space. Most recently, I added these Fferone Deerborn glasses to my collection and let me just say, the joy I get from reaching for these beautiful scallop-rimmed drink wares is immeasurable. It's an investment but one I've spent months thinking about, and I couldn't be more happy to finally have them in hand!
3. After searching long and hard for a toddler chair that didn't lean too kiddish or too grown-up, I finally found one at Audwell, a new US-based brand that is designing furniture made for kids but approved by adults. They currently offer the Oslo learning tower, the Goldie chair, and a chef's apron. Our Goldie chair fits in perfectly alongside our Hay J22 chairs and will grow with our toddlers for several years. I know it will also be an heirloom piece that one day our kids can pass down to their kids.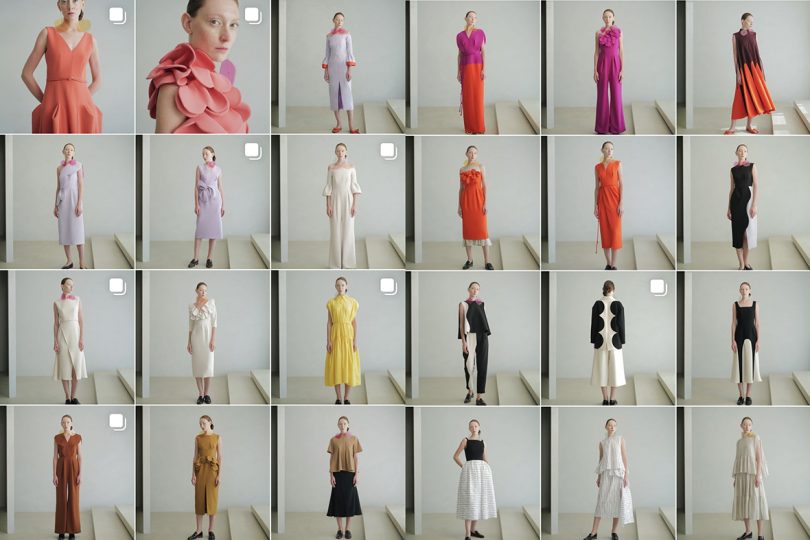 4. Peggy Hartanto is my new favorite fashion designer. Her 2021 Autumn collection is so jaw-dropping. I love the petal-like collars, the punchy colors, the draping and pleating of the dresses and blouses, and the waves and arches found throughout the collection. (I'm telling you, this trend is here to stay!) I can't pick a favorite, so tell me which one is yours!
5. Artist Gráinne Nagel debuted her latest collection on Smithson Gallery and her work just makes me happy. She's an Irish visual artist and designer whose primary area of focus is collage and exploring this medium's infinite creative possibilities. The compositions are playful, colorful, and fun to look at!